Does wishing someone a 'Merry Christmas' make one any less Muslim? The question arises with the recent incident where an employee from Delizia, a well-known Karachi-based bakery simply refused to write 'Merry Christmas' on a cake, for a customer on the basis that he was not allowed to write it- as per an order 'from the kitchen'.
The incident was reported by a woman customer who went to the bakery's DHA branch to get a cake to celebrate the occasion.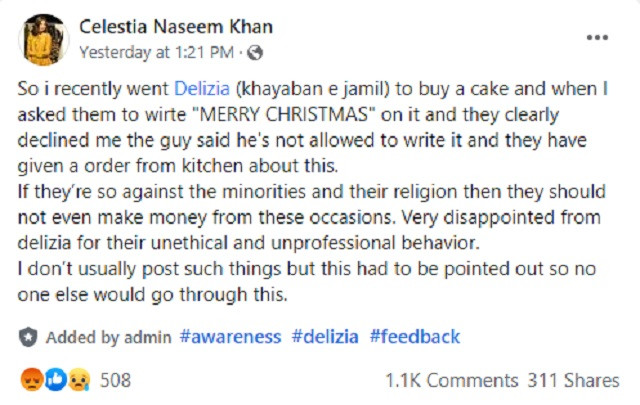 The incident invites us to revisit Prophet Muhammad's vision of a "Muslim nation", and the role religious pluralism and civic rights played in it. Ahadith shows us that Muhammad (Saw)  desired a society in which citizenship and equal rights were granted to all people regardless of their religion and practices.
By guaranteeing the Persian Christians- the right to freely practice Christianity, Prophet Muhammad layed down a model for us which implies equal treatment of citizens before the law without any distinction being made based on religion. Securing the rights of these people meant that the Prophet wanted Christians to feel like they "can bring their full identities to the table". Muhammad (PBUH) allowed Persian Christians the right "to believe that they are right and others are wrong, and they are allowed to think their beliefs are true and others' are not".
The religious freedom that our Prophet Muhammad (SAW) granted Christians directly contrasts with how states such as Saudi Arabia treat their minority religious communities today.
Even the Quaid, the founder of our nation desired for a secular state where people from all religions, castes and creeds be allowed to freely practice, and celebrate their individuals spiritual faiths and beliefs!
Have the #Delizia & #AuntyMunaver teams forgotten what the white in the #Pakistan flag stands for? pic.twitter.com/kwqoHuQSCd

— Ramsha Khan (@ramshakofficial) December 22, 2021
Therefore, the Muslim core never was and never should become so fragile and weak, that it starts to imagine itself to be under threat merely through wishing its surrounding religious faiths a happy, healthy and wholesome "Merry Christmas"!🎅🎄