While the internet has given us a million reasons to be grateful, sometimes it can also prove to be a place of darkness. Thanks to internet trolls who find it so easy to pass judgements and comments online – not thinking twice about how it may affect others. Luckily, some of our favourite celebrites know how to take a stand for themselves and put the trolls in their place. Here are some of our favourite clap backs!
Ayesha Omar
After a troll called her out for celebrating Eid in high spirits and her 'plastic behaviour' in light of the recent tragedies, the Bulbulay actress shut them down with the most savage response ever!
https://www.instagram.com/p/CApsKDeDQjq/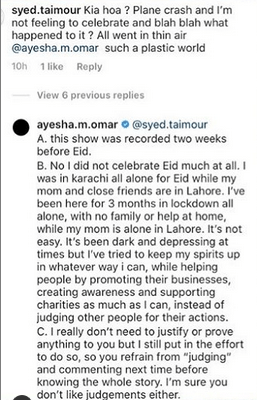 Mahira Khan
The Superstar actress posted a message in light of the pandemic on her Instagram. While many appreciated her for bring a responsible public figure and lauded her efforts, a few tried to project their uncalled for opinions on her. The Humsafar starlet had the best response.
https://www.instagram.com/p/B9_xXdvByvt/
Yasir Hussain
Yasir is known for his epic comebacks! The newly wed posted a sweet video of his bride. While fans and followers sent their prayers and best wishes to the couple, some couldn't digest their irrelevance and ending up leaving not-so-welcomed comments. Yasir responded to one of these trolls, leaving everyone in fits.
https://www.instagram.com/p/B7DdMf2j0nK/?utm_source=ig_embed
Rabia Butt
Model Rabia Butt is fearless and we love that about her! When a troll called her out for having 'manly' hands, she knew exactly how to put the troll in their place!
Why your hands are so mardana?🙊😂 https://t.co/8zpmjkL2LU

— Khizer Jadoon (@kkj_here) December 7, 2018
Partay Bhi kafi mardana hein. https://t.co/YpYepaln7P

— Rabia Butt (@Iamrabiabutt) December 7, 2018
Sarwat Gilani
After the Sarwat Gilani shared an intimate photograph with her husband featuring an affectionate peck in front of the Trevi Fountain in Rome, she received backlash from Pakistanis who thought it was a bit too much for public display.
The actress shut down trolls like a total boss for once and all! She posted an open message on her Instagram, addressing all the haters altogether.
https://www.instagram.com/p/B71P605jXG8/?utm_source=ig_embed
Maya Ali
A troll offered to buy Maya Ali a new pair of jeans because they had trouble digesting her ripped denims. Maya Ali had the best response to their unappreciated offer.
It truly makes us so happy to see our favourite celebrities standing up for themselves and teaching internet trolls a much needed lesson or two. Let us know what your thoughts are by dropping a comment on our Instagram page.