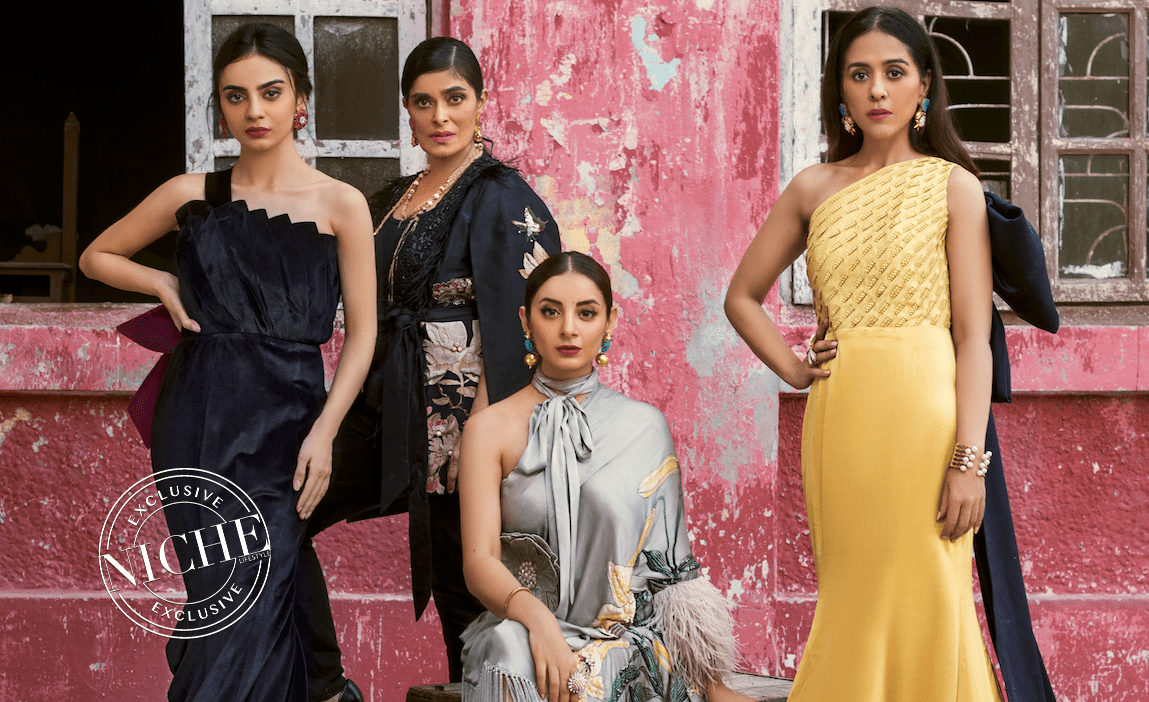 'Mard ko dard hoga', they said. And that is what 'Churails' delivered, when the promotional materials of Pakistan's first ever web-series were released on social media. Creating a ruckus online, there were outcries of 'sasti feminism' (mostly by men), when they saw a female lead series featuring real women. 'Churails' is being dubbed as a 'revolution' in the form of a drama series which celebrates women for just being themselves.
As women take centre stage in the 21st century, we spotlight on the cast of 'Churails' as they redefine local content proving that 'The Present is (truly) Female'.
In order to get to know more, Niche Lifestyle caught up with the fabulous four of  'Churails' as they talk about creativity, challenging gender roles and self-censorship.
Excerpts Edited 
Sarwat Gilani
How do you detach yourself from the content that's around you in Pakistan, considering how different and unique 'Churails' is?
I have always surrounded myself with artistic content which inspires me to be creative and that's the only way I can survive as an actor. I don't even watch my own plays, so I can't even blame my families for not watching them. However, I do enjoy watching some of my plays but not most.
While reading the script, did you initially think that there will be acceptance amongst the Pakistani audience for such progressive content?
There were a lot of fears that we had while we were reading the script, but at the same time it was very challenging and I think every artist need challenges to satisfy their desires to create something. When 'Churails came out, it was met with a mass positive response. 'Churails' is all about making people uncomfortable in order to initiate discourse among the audience. So naturally if you're trying something as revolutionary as 'Churails', there will be pre-conceived notions.
Mehar Bano
'Churails' has become a hot topic, where it is being lauded for changing the narrative, focusing on real and independent women. On the flipside, it is also being criticised for showcasing values which are supposedly against the local culture. How are you dealing with the mixed response?
It's been delightful having to deal with the response, and it's not surprising that people who benefit from this flawed system of patriarchy are standing up against this because this show challenges centuries of gender norms and roles. I think this debate is the first step towards creation of a more tolerant and progressive Pakistan.
The web-series has been dubbed as a game changer for women in Pakistan. Do you feel more shows will follow suit after the success of 'Churails'?
I think 'Churails' has really set the bar high in terms of quality content and really shown that if creatives are allowed to exercise complete freedom to create without any censorship, they can make world class content. This is the beginning of a digital revolution in Pakistan so hopefully more shows will follow.
Nimra Bucha
How does it feel to be a part of project which addressed so many social topics which are sometimes even considered taboo by the standards of the Pakistani society?
The intention was to tell a story about women, to tell it in a way that is truthful and authentic about their experiences.  Anything that was relevant to their experiences made its way into the story.  Some of these subjects might make people uncomfortable. It is important to ask oneself why that is.
'Churails' addressed many social issues that exist not just in Pakistan but across the globe. Did you ever feel like, while exploring such topics, the aspect of entertainment would get lost somewhere for the local audience?
'Churails' is first and foremost an entertainer that will keep you laughing and on the edge of your seat.  I think it sits quite well with all kinds of audiences but most importantly it makes us laugh and cry at ourselves here.
Yasra Rizvi
Adnan Malik recently said, that Pakistani television content from now on will be viewed as the post Churails and pre Churails era. Do you agree with the fact that this will give upcoming directors, writers and actors the confidence to come up with diverse and progressive content, and allow them to freely express ideas?
I agree in the broader sense of things, not television content but in general because I have said it repeatedly that because of the placement of TV in an average audience's household, the content has certain regulations and limitations in the country. However, the problem that we normally face is the 'thematic boundaries' due to which we have to resort to a lot of self-censorship while telling a story. In a way 'Churails' has set a benchmark for quality content and it will definitely serve as an inspiration in terms of liberty and expression for the content coming out of Pakistan.
'Churails' has been receiving rave reviews, not just from the Pakistani audiences but from audiences around the world. How does it feel to receive international recognition for your work in Pakistan?
It is a very different feeling although our television dramas are watched internationally, that's a different kind of access again, that was a different kind of paradigm, there were different kinds of boundaries that the content was created in. I really want Pakistani content to travel the world, I want people to know about our local stories, our actors, technicians and writers, and send them out into the world.
For our last feature on Churails, click here