Sania Khan's death has once again sent Pakistani women into grief that no matter how many times women can ask for help to escape their abusive husbands, they will still never be taken seriously by anyone. The common sexist belief enrolled in to the mind of young girls is that they're the backbone of their families, and after marriage they are solely responsible for taking care of their husbands and can never leave or they will be considered as "immoral" among society.
Celebrities had taken to social media to remind young women that a divorced daughter is better than a dead daughter, and parents should help their daughters survive by escaping abusive marriages. Actress Ayesha Omar shared the post announcing the death of Sania Khan, and in her next post on Instagram stories, she called for Pakistani parents to understand that they should respect and love their daughters enough to never leave them somewhere where their life is in danger:
"A divorced daughter is better than a dead daughter. Right? Or isn't she? Unaccepting parents of girls who are wanting a divorce (or taken one): Ask yourself this question."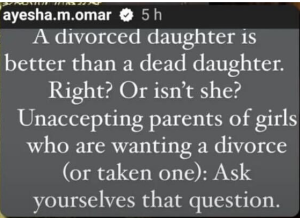 Actress Dur-e-Fishan shared the tweet by veteran actress Samina Peerzada where she begged parents to let their daughters find refuge in their homes if they're suffering from abusive marriages. Underneath it she wrote:
"Normalize getting out of an abusive relationship. Be it physical or mental."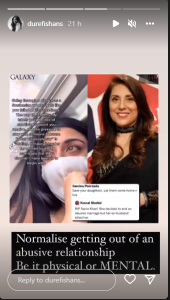 We also want to remind other women in Pakistan that it's not their responsibility to fix a man, and the burden of keeping their family together is not theirs solely. Please leave if you're suffering from abuse or violence, and always remember that you have a bigger purpose in life than getting married.