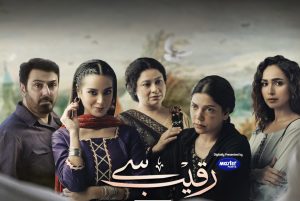 Iqra Aziz and Noman Ijaz starrer 'Raqeeb Se' just aired its 3rd episode and the audience is hooked!
Written by Beegul and directed by Kashif Nisar 'Raqeeb Se' is produced under the banner of Momina Duraid Productions.
The drama serial is inspired by Faiz's poem 'Raqeeb Se' and is an unconventional love story which revolves around two long-lost lovers (Noman Ijaz and Hadiqa Kayani) who meet after 20 years.

Other than Iqra Aziz and Noman Ijaz, the cast of the drama serial includes Sania Saeed, Salman Shahid, Hadiqa Kiani, Faryal Mahmood, Saba Faisal, Saqib Sameer, Hassan Mir amongst many others.
Suno Chanda actress Iqra Aziz and Ghamand actor Noman Ijaz are being lauded for their onscreen chemistry and performances. Here's what the audiences are saying:
#RaqeebSe seems like an old Pakistani classic drama. The whole story is weaved so beautifully that it takes you into another world, i mean you just cant get enough of it. Beautifully portrayed the so many shades of love.
Exceptional drama. Seems like a breath in the freah air. <3

— 🌱 (@__wallflowerrrr) January 28, 2021
The entire cast of #RaqeebSe is so PERFECT. Every character holds your interest. Sania Saeed and Hadiqa Kiani have my entire heart.💘 Iqra Aziz and Nauman Ijaz have set the screen on fire with their phenomenal performance.🙌But the actor playing Rafique Ali. 🙌🙌🔥🔥 POWERFUL.💥

— Norah Bing🌸 (@BingNorah) February 3, 2021
Just watched both episodes of #RaqeebSe & I must say Iqra Aziz is one of the best actress we have. Great storyline & performances from Nauman Ejaz, Sania Saeed & Faryal Mehmood. Definitely recommended if you're looking for realistic & different content.

— 🦋 (@kirannraza) January 29, 2021
#RaqeebSe
A real boost to Pakistani Drama Industry. Remarkable performances n a power packed content.. Loved the way each character hold its strength n solidify..!!
Watch it on HUM TV every Wednesday..!!
⭐⭐⭐⭐⭐@ijaz_naumaan thank you

— SHALINI MALIK KHAN (@ShaliniiMK) January 30, 2021
The drama serial also marks the acting debut of Pakistan's singing sensation Hadiqa Kayani. The singer took on the role of 'Sakina' in the serial with such finesse that it's hard to believe that it's her debut performance!
Watch the very first episode of Raqeeb Se below:
Are you also following Raqeeb Se? If yes, then let us know what your thoughts are on the drama serial by leaving a comment on our Instagram page!
Until next time!