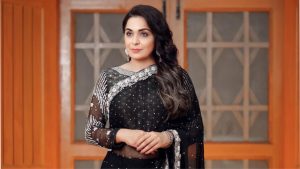 Meera Jee is declared a mental patient by the doctors in America. Her mother, Shafqat Zahra Bukhari in an interview with a news channel said that on the 3rd of April, Meera called her from the United States in a panic and told that she has been admitted to a mental asylum.
Shafqat Zahra Bukhari said that she has no idea that who has sent her daughter to the mental asylum and has appealed to the Prime Minister Imran Khan to bring her daughter back home.
As per sources, Meera Jee got a fever after the vaccine and went for a routine check-up to the doctor where she started fighting with the medical team to give her a  VIP protocol as she is a well-known actress. The team tried a lot to calm her down and explain that the hospital treats everyone as per rules but Meera kept on being rude to the doctor and the medical staff. 
Despite the doctor's warning, Meera kept on mis-behaving and the doctor called the psychiatric centre. As per sources, Meera Jee has accepted her mistake but has been admitted to the mental hospital and wants the government of Pakistan to help her come back to her country.
We really hope that this issue is resolved and she comes back to Pakistan safely.