Amidst an imperatively swift shift in the fashion world to make sustainable choices – the industry is meant to revert to the ideas of the past , in terms of retail. While the fashion world is eager to find reasonable solutions to reduce the adverse effects of pollution caused by mass production , it is evident that the industry would go back to Couture – some fashion insiders also claim that the future is menswear.
Over the past couple of seasons , menswear has taken an interesting turn down the gender fluid route. With designer neophytes like Ludovic De Saint Sernen curating bare chests and wet looks in Paris to utilitarian looks at Craig green and Jacquemus , tailored suits with a hint of fem at Louis Vuitton and embroidery galore at Dior and Bode, menswear is finally in the much deserved spotlight. Considering that here's a round up of some of the most interesting trends to come out of this seasons.
Dapper Draper
From Avant garde almost leather/satin like sea green fabric draped on a silk suit, at Loewe ,to draped suits at off white and silk capes with over sized appliqued rosettes at Dior – this season highlighted an interesting take on extra flounce and generously used exquisite fabrics. Take notes and fill your closet with some extra yards of extravaganza.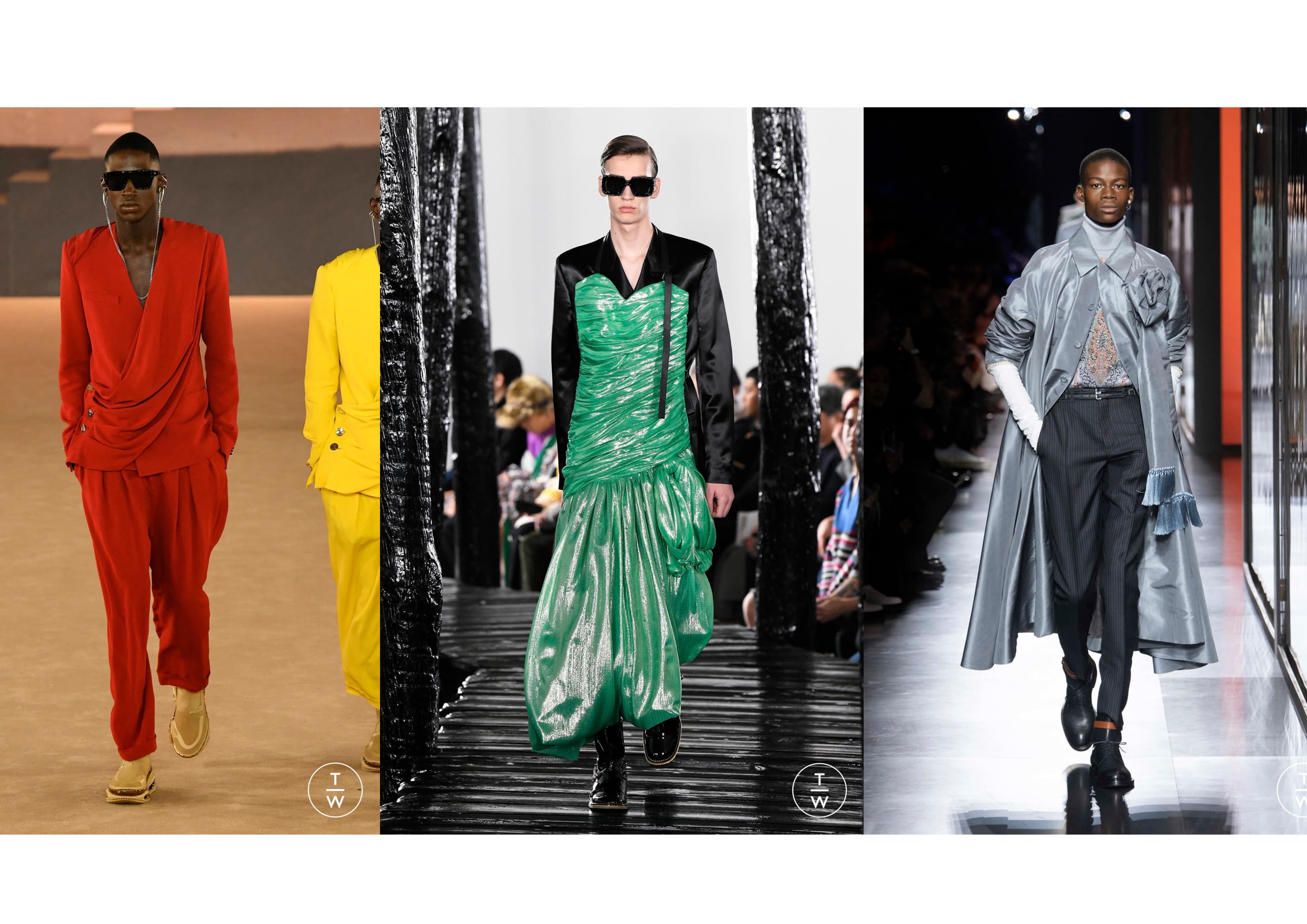 Twisted Tailoring
Keeping the essence of tailoring , menswear fashion is swiftly shifting to a more gender bending genre. Virgil Abloh returned to Louis Vuitton after a brief break off the fashion scene – introducing witty tailoring featuring an Edward Scissorhands inspired suit to some quirky details on the sleeve hems. Sarah Burton at Alexander McQueen juxtaposed contrasting fabrics and colors while staying true to tailoring , on the other hand Kaushik Velendra introduced exaggerated padded shoulders which were tailored to perfection.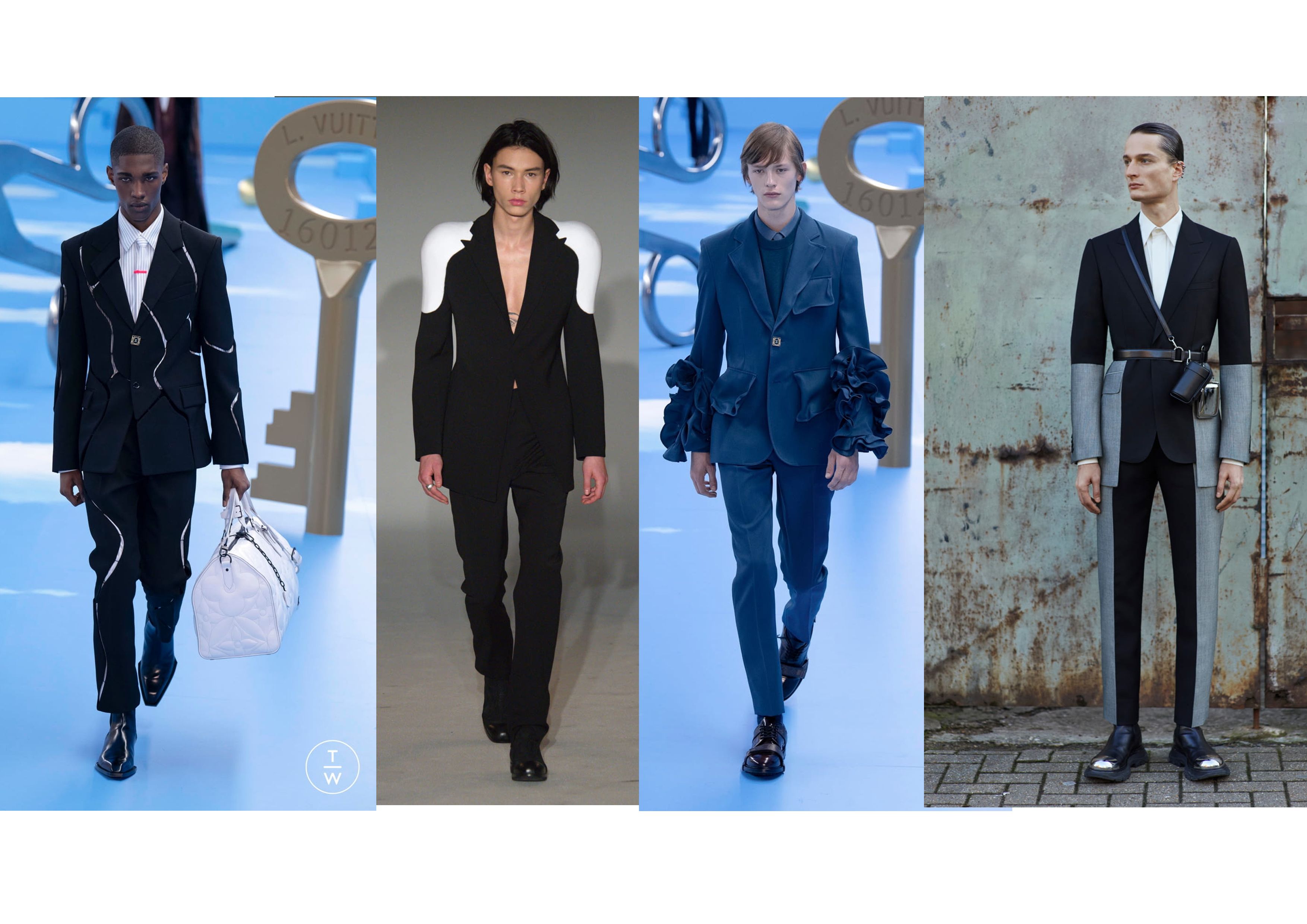 Embroidery mayhem 
Techniques of Embroidery dates back to around 5000 and 6000 B.C – with garments encrusted with sea shells and in some cases , actual animal and human bones. This season menswear however, spares us of grotesque details and instead highlights the use of beautiful embellishments.
For the A/W 2020 Dior collection, Mr Kim Jones was highly inspired by this dress from Autumn-Winter 1969 by Marc Bohan and the work of Judy Blame – the archival dress was embellished with flat Ribbons of silver. Jones translated the meticulous embellishments onto Capes , over coats and tailored suits while on the contrary Sarah Burton at Alexander McQueen played with gold embroideries.
Some techniques indigenous to South Asia like Gota were also seen at Bode. The creative team at Bode utilized the technique using unconventional figurines and motifs – read ( local designers please take note).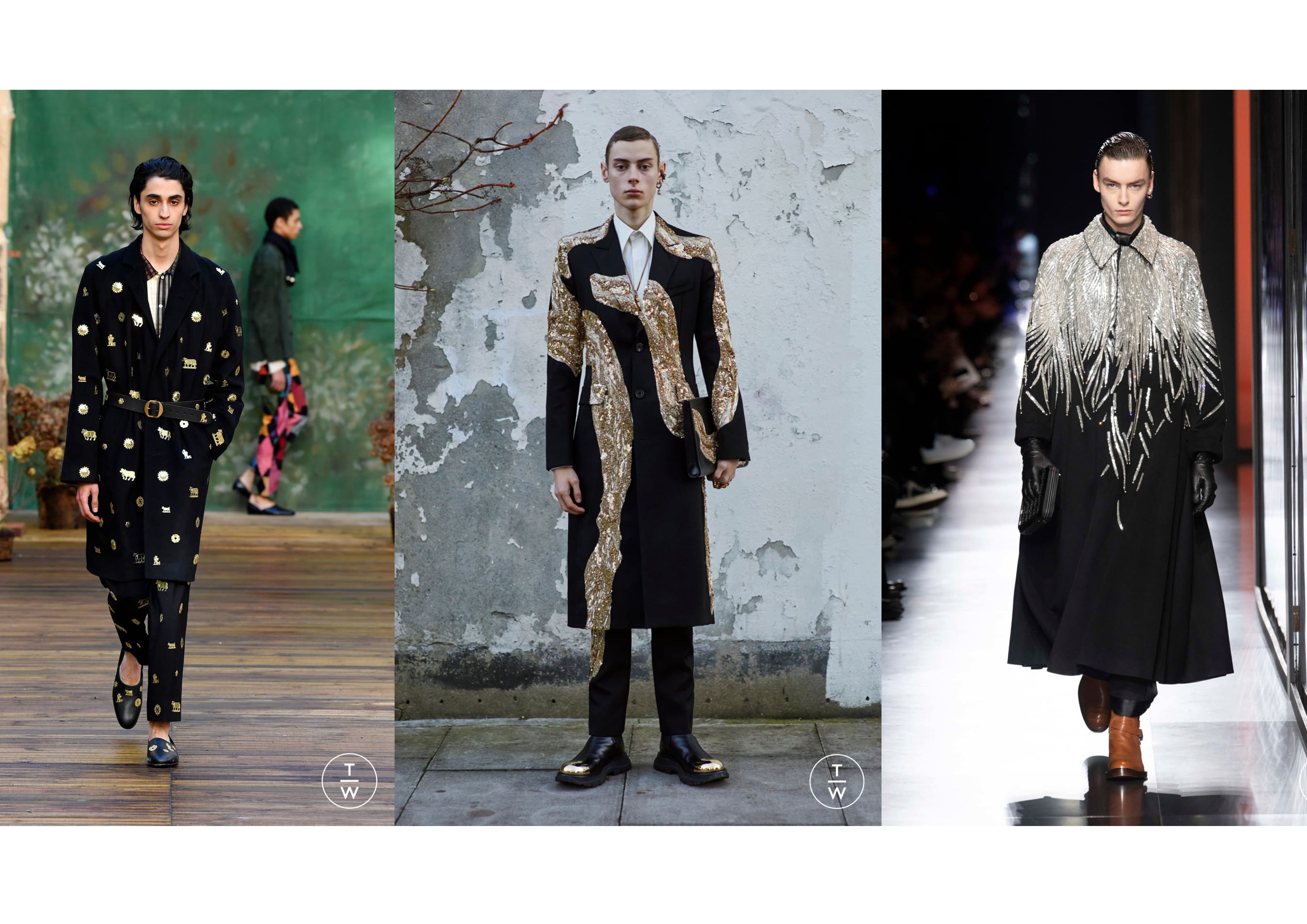 This rounds up some of the most interesting trends to come out of the menswear fashion week – hope it inspires you to take some interesting wardrobe measures and look chic. Check out some awe-inspiring trends from the couture fashion week here