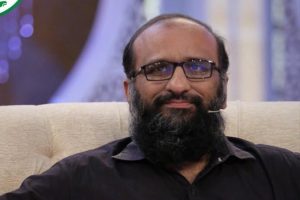 Edhi foundation which is one of the biggest humanitarian group of Pakistan has offered its services to help India in tackling Covid-19 crisis.
Faisal Edhi, the Managing Trustee of the foundation and the son of late Abdul Sattar Edhi in a letter to the Prime Minister of India, Narendra Modi wrote, "We are very sorry to hear about the exceptionally heavy impact that the pandemic has had on your country, where a tremendous number of people are suffering immensely. As a neighbouring friend, we sympathise with you greatly and during this strenuous time, we would like to extend our help in the form of fleet of 50 ambulances along with our services to assist you in addressing, and further circumventing, the current health conditions.
The letter further stated, "We wish to lend you our full support, without any inconvenience to you, which is why we will arrange all the necessary supplies that our team needs to assist the people of India. Importantly, we are not requesting any other assistance from you, as we are providing the fuel, food, and other necessary amenities that our team will require. We are willing and ready to deploy our team into any critical areas of concern at your direction without hesitation. We look forward to assisting you in managing the current humanitarian crises, and hope only to provide our help in whatever way that we can, for the benefit of the people of India."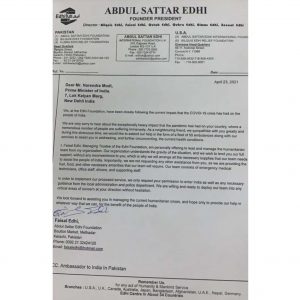 He has offered help in the form of a fleet of 50 ambulances and has requested PM Modi to grant them permission to enter the country and has asked for the necessary guidance from the local administration and the police department.
India has been recording above 3lac fresh COVID-19 cases, making it the highest single-day count in any country so far and patients suffering from corona are dying due to the unavailability of medical oxygen and lack of beds at the hospitals.
The government of India has not responded back to the offer yet. We hope and pray that may Allah have mercy on all man-kind and help us fight the virus. Ameen.