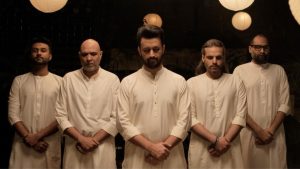 Atif Aslam to release Salam e Ajizana in collaboration with Nouman Javed and Ali Pervez in the holy month of Ramadan. Atif announced the news on his official Instagram account and nation is eagerly waiting to listen to his soulful voice again which will be no less than a gift to every Muslim across the globe in the Holy month of Ramadan.
He has recited Rajdar-e-Haram, Naat, and in 2020, he recited the 99 names (Asma-ul-Husna) of Almighty Allah which was a three and a half minute recitation and touched millions of hearts.
Atif has also shared some bts images on his Instagram account and along with that Nouman Javed also posted the news on his Instagram with Ramadan greetings and both the singers requested for prayers. Other notable names who have worked on this project are Ali Pervez Mehdi, Ahsan Pervez Mehdi and Kumail Jaffery.
The nation now looks upto Atif Aslam every year in the Holy month of Ramadan to bring them a soulful recitation which they can enjoy to the fullest in this month of blessings.
With this great news being shared we are already in high spirits and just cant wait to listen to Atif's new Ramadan special, Salam-e-Ajizana.