Pakistani actress and writer Yasra Rizvi recently wrote "We are a nation totally obsessed with marriage and one's ability to procreate" expressing her frustration over the fact that for Pakistani media the fact that she is pregnant appears to be more "newsworthy", in relation to the fact that she is currently directing one of the most important scripts of her career.
Yasra is currently directing the much-awaited drama Working Women, which has been penned by the coveted screenwriter Bee Gul of Raqeeb Se fame. It is one of the most important scripts of her career, but we simply don't care because we are more concerned with the banter that goes around about her pregnancy. So much for Pakistani priorities and concerns.
She took to her Instagram account to write: "In our country, the newsworthy bit is that I am pregnant," said Rizvi. "Not the fact that I am also directing probably the most important script I have gotten to direct so far while due any time now! Indeed, we are a nation totally obsessed with marriage and one's ability to procreate."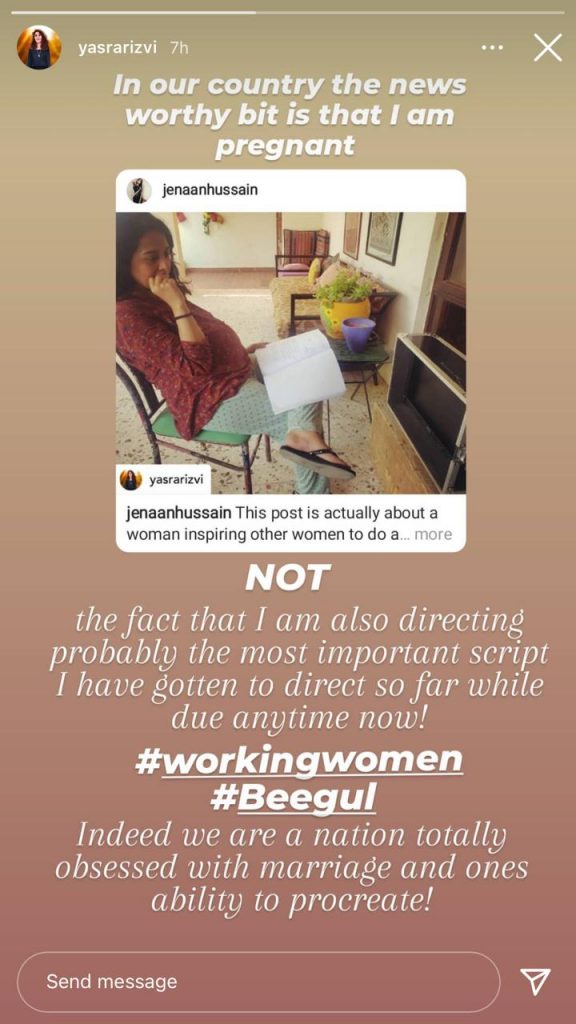 Yasra's argument is rooted in the idea that she is a working woman who is recognized and known by the public because of her body of work and all that it entails. However, recently media outlets have been preoccupied with and interested in her baby bump alone, as if that is the only and most important thing to be discussed and talked about.
However, her plea for the media to focus on a woman's work rather than her personal life alone, was not taken well by many users on social media. They were quick to misjudge and misconstrue her point.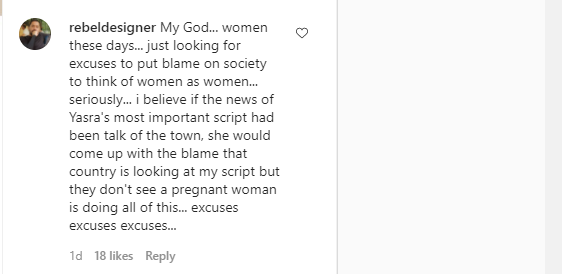 In response, Yasra had to explain her side saying: "Aik tou poori baat nahi samajhta koi. Aap ki duaaon aur naik tamannaaon ke liye main tah e dil se shukar guzaar hoon…Shukriya Shukriya Shukriyaaaa,".
In all this, Yasra's sister-in-law Jenaan Hussain, also came to her rescue, sharing a picture of Rizvi to explain what her post was actually about. She wrote: "This post is actually about a woman inspiring other women to do and be whatever and whoever they wish to be at any point in their lives regardless of their age and domestic commitments."
Shedding light on the actual things a woman needs to be applauded for, Hussain added: "Being this pregnant and directing a high-pressure set is just the kinda thing only a woman can pull off, just like her a lot of women around us everyday juggle between the most daunting tasks and nail it and some get trapped in myths and preconceived don'ts."
"Women are doers, and if there is a time to stop underestimating us and what all we are capable of it's now," she wrote.
Is Yasra rightfully claiming new standards for what a woman needs to be applauded and appreciated for, or is she simply thankless? Let us know your opinion!