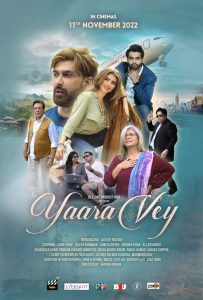 "Koi kissi sai dur hou ya koi kissi k qareeb hou
Muhabbat Rubaru ho hi jaati hai, jab koi kissi ka Nasseb hou"
Starring mega stars Sami Khan, Aleeze Nasser, Faizan Khwaja in main leads 'Yaara Vey' displays a moving love story that soon transforms into a love triangle. All the actors have proved their mettle in the acting department and we're sure this movie is going to add to their list of successful projects.
From the looks of the teaser and poster, we are  going to see a whirlwind romance that is ready to face all that life has to throw at them. We also need to be prepared for some heartbreak, pain and tears. This movie poses a great plot with memorable dialogues and lifelong life lessons for people who are romantics at heart.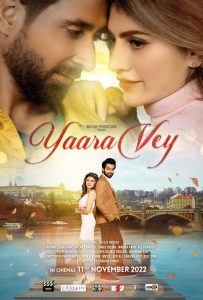 Coming to the characters, Sania is a dainty and disciplined woman who's journey from Dubai to Thailand and furthermore to Georgia transforms the way she looks at life. The gentle Arman and maverick Samir fall for Sania's personality and then fate takes its due course.
The film also displays breathtaking visuals. 'Yaaravey' has been shot in many picturesque locations across the globe. Another highlight of the movie is the superb music lineup. From deep emotional ballads to hip groovy tunes, this film has it all.
From the brief teaser we can also have a peek into the impeccable cinematography and the eye for detail that Director Manish Pawar possesses.
We are ecstatic that after two years of no cinematic releases, we have such a promising film coming our way. We can't wait for the movie to release in Cinemas. Take your friends and loved ones along, you don't want to miss this.
If you haven't watched the teaser yet, have a look here.