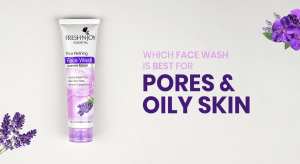 Everybody's skin naturally produces oil, or sebum, to moisturize and protect itself. Your sebaceous glands are located underneath each of your pores. Sebaceous glands tend to overproduce oil when you have oily skin, which can result in glossy, greasy skin, blackheads, and other blemishes. People with oily skin are more prone to it because germs and oils in their skin mix with sweat, blocking pores and causing acne.
What causes oily skin?
●
Genetics
may play an essential role in sebum production—the greater your pores, the more oil your skin produces. Pore size varies by family and ethnicity.
●
Humidity
can cause increased sweating and oil production. Those who live in humid climates are more likely to have oily skin. Compared to the dry winter, you can be more prone to oily skin during the moist summer months.
●
High-glycemic diets
high in sugar and simple carbs may promote sebum production. Simple carbohydrates may raise growth hormone levels in the body, resulting in more oil.
●
Enlarged pores,
Because of age, weight fluctuations, and previous breakouts, your pores might sometimes extend out. Larger pores create more oil as well. You can't decrease your pores, but you can take extra precautions to blot larger pores on your face during the day.
●
Using the wrong skin care products
for your skin type might also result in oily skin. When shopping for makeup, search for oil-free and non-comedogenic products. These products are intended to avoid clogged pores and are perfect for people with oily skin.
How to get rid of oily skin?
●
It can be hard to prevent oily skin, whether it is caused by hormones or heredity. Consistent skin care and avoiding unhealthy diets such as fried foods, sugary foods, and processed foods may help.
●
Choose water-based products over oil-based products. Look for non-comedogenic products that are less prone to block pores.
●
It may seem paradoxical, but using a moisturizer daily is a crucial strategy to treat oily skin. When your skin becomes excessively dry, your body produces more oil to moisturize it. Apply a mild, oil-free moisturizer with sunscreen every morning.
●
To care for oily skin, you must remove excess oil. Wash your face in the morning, at night, and after exercising. When looking for the best face cleanser for oily skin, look for one with glycolic acid or salicylic acid. Both of these acids can penetrate the pores of your skin and remove excess oil.
Use a face cleanser suitable for your skin type that can deep cleanse and remove all dirt and grime. There are still a variety of face wash products available on the market. So, before you go out and buy one, consider your skin type, budget, and which product ingredients to look for or avoid. Fresh N Joy provides the best skin care products in Pakistan. Its Pore Refining Face Wash with Lavender Extract is best for pores & oily skin. Its facial foam is specially formulated with lavender extract to refine and minimize pore size and balance the skin moisture.
How is lavender beneficial for oily skin?
Lavender oil can be a lifesaver for oily and blemished skin. As a result, it helps clean up pimples and prevents future acne flare-ups. Many people with oily skin try to remove all of their excess oil by utilizing harsh stripping creams. When the skin becomes too dry, it overcompensates by creating even more oil, resulting in clogged pores. The lavender essential oil can truly aid by regulating the skin's oil production and, as a result, maintaining a well-balanced moisture barrier, ensuring that the skin remains thoroughly moisturized and does not dry out.
This Pore Refining Face Wash with Lavender Extract is a perfect product for orange peel skin for less visibility of pores. Aloe Vera, Glycerin, Allantoin & Multivitamin (B3, B5, C, and E) gives your skin a glow and freshness.