We last saw Imran Ashraf in 'Dum Mustum' and have been eagerly waiting since then to see him ace the romantic hero avatar again!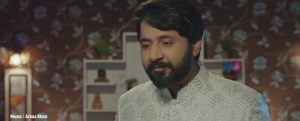 Well the actor is at it again as he woos us over with his convincing and impeccable acting in Wally Sandhu's latest punjabi number 'Tu Bewafa'.
The emotional Punjabi ballad is ticking all the right boxes that not only make it a delight to listen but also a visual treat as well. The story and screenplay has been written by none other than Imran himself. Wally Sandhu also amazes us with his melodic panache and gut wrenching lyrical prowess.

Heart breaking lyrics combined with a moving music video has earned the song millions of views on Youtube within a few days.
The song is a narration of how true love knows no bounds and can even embrace death in the face of betryal. We won't spoil it for you because you deserve to see the 7-minutes of musical excellence yourself.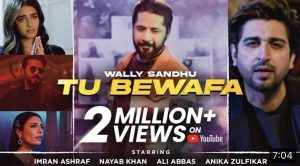 The song also features Ali Abbas, Anika Zulfiqar and Nayab Khan. The music and composition has been carefully curated by Furqan Khan, while the poetry has been written by Ali Zaryoun.
What really moved our heartstrings was this verse recited by Imran himself at the end of the song which truly highlights the crux of the entire plot.
"Mujh ko matti kernay walay, mein tera sarmaya tha
Main tou apnay Zaat kai tukray, ankhoun mein bhar laya tha
Dekh! Meray khaali haathoun ko, puch yeh meri ankhoun sai
Kon aata hai maut kai peechay, yaad kero…mein ayaa tha"
We're playing it on repeat and no, we're not stopping anytime soon. Many of our industry's celebrated personalities have also shown their appreciation for the song including Sarah Khan, Amar Khan and Tiktoker Jannat Mirza.
Haven't seen the masterpiece yet? Have a look and let us know your views about it.