After much speculation, Falak Shabir finally announced that that they are expecting their first child. He took to Instagram to announce the news saying "It is he who forms you in the wombs AS HE WILLS, there is no god but he: THE ALL-MIGHTY THE ALL WISE"
– Quran|Al imran 3:6
ALHAMDULLIAH we're expecting our first child. Remember us in your prayers. MASHALLAH"
View this post on Instagram

The couple had previously hinted at this earlier as well when Falak Shabir shared a image in his story sharing how the process of pregnancy affects both mother and father.

Furthermore, Sarah Khan also shared a verse which translated as
"He is the One Who created you from a single soul, then from it made its spouse so he may find comfort in her. After he had been united with her, she carried a light burden that developed gradually. When it grew heavy, they prayed to Allah, their Lord, "If you grant us good offspring, we will certainly be grateful."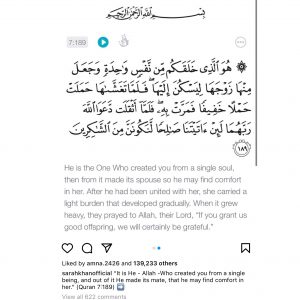 We wish the couple all the best for their new journey in life as parents. May it bring them comfort, joy and happiness. Who else can't wait to see their bundle of joy?