Last week, Junaid Safdar grandson of former Prime Minister of Pakistan, tied the knot with Ayesha Saif Khan, daughter of former NAB chairman Saifur Rehman, at Lanesborough.
Pictures from the event soon went viral which included moments not only from the Nikkah but other images showcasing the décor as well.
Today the video from the event went viral where Junaid Safdar can be seen singing 'Kya hua tera Wada' from the movie Hum kisse se kum nahi.
Bilal Maqsood took to his Instagram stories to appreciate his singing as well. Cheekily, he said 'Some of the flowers in the background might be from my tax money but I have to give this guy full marks for his singing.'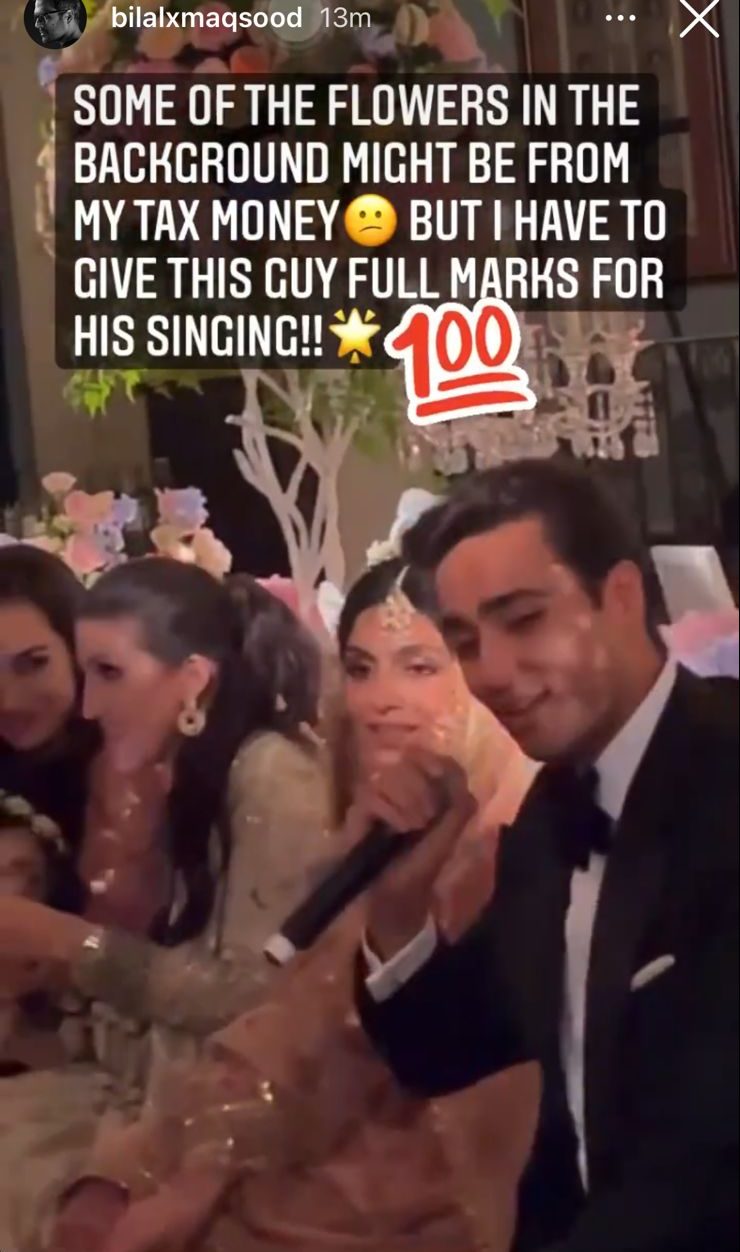 Twitter has also been having a gala time commenting on his voice and well the choice of the song as well. Scroll down to see.
What a magical voice! 😍

Junaid Safdar singing beautifully on his Nikkah ceremony pic.twitter.com/sPlKvQMzFF

— Ansa Akhtar (@AnsaAkhtar4) August 25, 2021
not junaid safdar singing the saddest song of gham hour playlist on his wedding

— gumnaam awaara (@urtaykhuwaab) August 25, 2021
My Instagram explore is just Junaid Safdar singing "Kya Hua Tera Waada".

Fine, the boy can sing. He can't be PM. Chill.

— HelloItMeArSlAn🌻🏳️‍🌈 (@ArslanArsuArsi) August 25, 2021
Heard Junaid Safdar singing

Talented 💯

— Sehr Rushmeen (@rushmeentweets) August 25, 2021
Junaid Safdar was singing for his ex? Bhai song selection to thek ker leta 😭

— Shahroz Qureshi 🍽 🇵🇰 (@GhabranaNahiHay) August 25, 2021

The invitation card of the wedding was earlier shared by the groom's mother Maryam Nawaz in a tweet where she mentioned "My son Junaid's nikah with Ayesha Saif-ur-Rahman Khan will take place in London on 22nd August Insha'Allah. Unfortunately, I will not be able to attend the ceremony owing to blatant victimisation, bogus cases and my name on ECL."
Junaid Safdar knows singing, no doubt about it. He has a very good voice@MaryamNSharif pic.twitter.com/CueLEx4cMo

— Farrukh Malik (@FarrukhMalik71) August 25, 2021