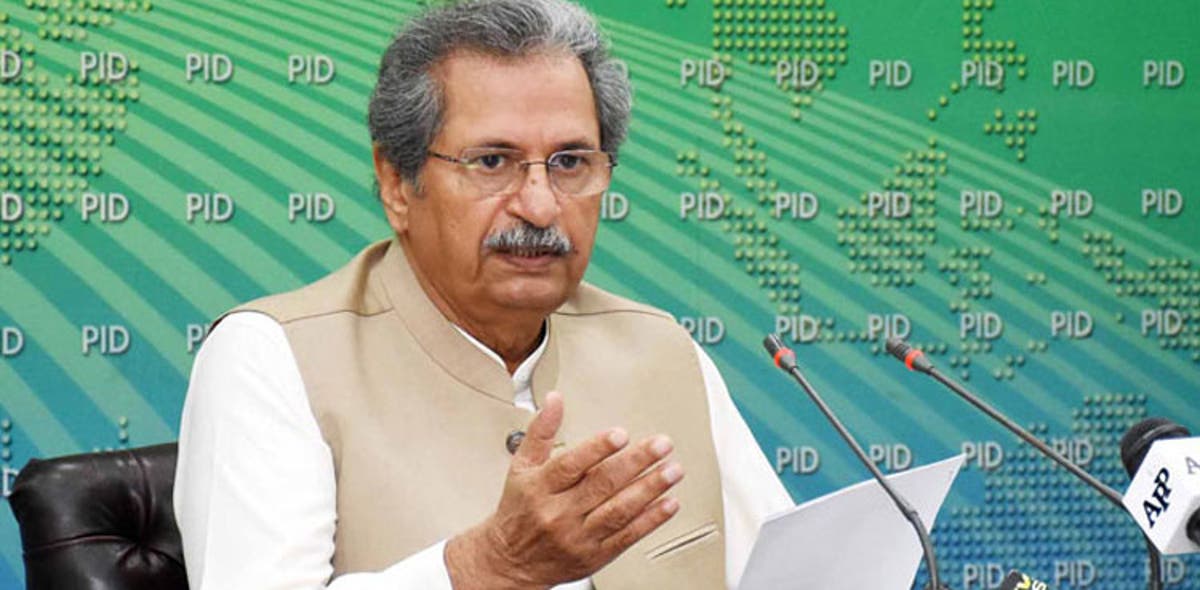 Federal Minister for Education and Professional Training Shafqat Mahmood announced earlier this week that "The third coronavirus wave is serious; requires careful review. All education/health ministers will meet Wednesday March 24 at the NCOC to take a decision regarding opening or further closure of educational institutions. Health of students, teachers/staff primary consideration."
The third coronavirus wave is serious; requires careful review. All education/health ministers will meet Wednesday March 24 at the NCOC to take a decision regarding opening or further closure of educational institutions. Health of students, teachers/staff primary consideration

— Shafqat Mahmood (@Shafqat_Mahmood) March 21, 2021

Today he announced in a press conference that education institutes will remain closed in areas with high positivity till April 11th.
All educational institutions will remain closed till 11th of april in all districts where corona positivity and infectivity rate is high.
Federal Minister Education @Shafqat_Mahmood briefed media after NCOC meeting. #COVIDー19 #Pakistan #Education pic.twitter.com/alsfgRcpGv

— Ministry of Federal Education/ProfessionalTraining (@EduMinistryPK) March 24, 2021

Obviously this gives twitter the chance to react with hilarious memes that light up our day every single time! While the news is being celebrated by students of Punjab, other districts are rather sad that they have to still continue with their studies.
Punjab Sindh &
Students Balochistan#Shafqatmehmood students pic.twitter.com/V8R6PyW8JF

— JahanZaib (@JahanZaibb_) March 24, 2021
#Shafqatmehmood be like: pic.twitter.com/Lck7EhPb1u

— PSYCHO-_-BOY💛 (@oye_SAlLUuu) March 24, 2021
Not All SuperHeroes wear Caps.😍 #Shafqatmehmood pic.twitter.com/FBpyTmAdk3

— JahanZaib (@JahanZaibb_) March 24, 2021
Waiting for shafqat mehmood decision be like : #Shafqatmehmood pic.twitter.com/tHybRWQSkV

— Kim Sushi (@KimSushi13) March 24, 2021
Sindh and balochistan students
Right now:#Shafqatmehmood#BreakingNews pic.twitter.com/NtznEld2mq

— عبد الرحمن💥⚡ (@merehamn) March 24, 2021
Pakistani students to shafqat uncle 😂🙂#Shafqatmehmood pic.twitter.com/ca6szwBjeW

— chaos (@itzhamas) March 24, 2021
Student after listening the announcement of Shafqat mehmood related to vacations.#Shafqatmehmood pic.twitter.com/GnBxcBjC6m

— Sibghat Ullah(Cimba🐯) (@ThoraHannsPagly) March 24, 2021
Students to #Shafqatmehmood after hearing the news: pic.twitter.com/pKt1c9Ce6B

— I know You're Stupid (@StuPid_Hoo_) March 24, 2021
#Shafqatmehmood #BreakingNews
Students of other Districts right now: pic.twitter.com/ZptuW5n5Tu

— Tahir💙 (@Tahir_Ch06) March 24, 2021
Punjab students to shafqat mehmood#Shafqatmehmood pic.twitter.com/X6sX5RyYi5

— محمد عبداللہ وڑائچ (@iabdullah_087) March 24, 2021

While we understand that twitter is a space to express and enjoy the announcement of holidays, we also need to remember the severity of the condition as mentioned in the tweet made by Shafqat Mahmood. The third coronavirus outbreak is more deadly than the previous strains and we need to take responsibility and take as much precautions as we can. The announcement has also made #cancelexamspakistan2021 a trend on twitter. Lets see what the future has to hold.