Shafqat Mehmood trends on twitter for surprising students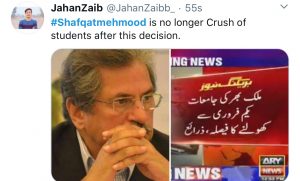 Shafqat Mehmood, our education minister is trending on twitter once again! As students were waiting for his decision regarding the opening of schools and universities, tons of memes were circulating on the social media regarding the issue.
Schools and colleges were closed down till the 11th of January as the virus cases were increasing rapidly as soon as the second wave of corona started in the country. Many considered it a wise decision as it was obvious that proper SOPs could not be followed by children.
Shadqat Mehmood was again in the spot light today as he had to announce his decision that whether schools and colleges will remain shut or will they will re-open from the 11th of January. Students from all over Pakistan made his hashtag trending with hilarious memes.
He announced that schools and all other educational institutions will reopen across the country in three phases. From the 18th of January classes for grades 9, 10, 11 and 12 those that have exams will resume. He said that in the second phase of the reopening of schools, students of primary classes till grade 8 will start going to schools from January 25.
He further added that universities and other higher educational institutions will reopen from February 1 in the third and last phase. All administration staff and teachers of educational institutions will resume their duties at schools, colleges and universities from the 11th of January.
Some students and parents are happy with the decision yet many think that it is not a good decision as the virus will again start spreading rapidly and children will not able be able to follow SOPs and may catch the virus very easily.
Here is how the twitterati are reacting to the decision: