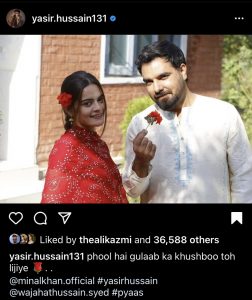 Yasir Hussain took to Instagram to announce his upcoming project 'Pyaas' in which he will star opposite Jalan actress Minal Khan. Of what we know of the project so far, it is not a drama serial but a telefilm!
Pyaas is directed by Wajahat Hussain and reportedly will highlight Pakistan's water crises. The telefilm is supposedly expected to release sometime in the next month – exact launch date is yet to be revealed. The telefilm's cast also features Madiha Rizvi and Tipu Shah. The telefilm is reportedly shot in north-eastern side of Pakistan.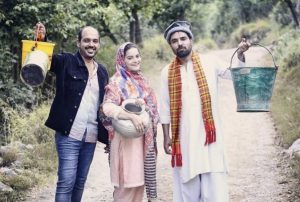 The BTS photos from the project are circulating on social media adding to the audiences' curiosity. The circulating photos show Minal Khan and Yasir Hussain in character. Minal Khan is seen holding a 'matki' (water pot) commonly used in rural areas for water consumption.
Previously we saw some great work from both the lead actors Minal Khan and Yasir Hussain for example Jhooti, Jalan and Nand. The audience is excited to see what the two actors have in store this time.
We wish the entire team of Pyaas good luck and anxiously await the release of the telefilm next month! Let us know what your thoughts are on this upcoming  project by leaving a comment on our Instagram page.