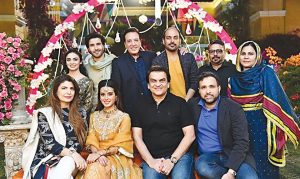 Feroze Khan alongside the lovely Iqra Aziz will be gracing our TV screens sooner than anticipated with their upcoming project Khuda Aur Muhabbat ( Season 3). The drama serial is directed by Wajahat Hussain and written by Hashim Nadeem under the production of Abdullah Kadwani and Asad Qureshi's 7th Sky Entertainment.
Reportedly Feroze Khan will be playing a confident young boy from a lower middle class background. The plot and storyline  of the serial will revolve around love and spirituality. He will be starring against 'Jhooti' actress Iqra Aziz.
Besides Iqra Aziz, the cast of Khuda Aur Mohabbat Season 3 includes Junaid Khan, Javed Sheikh, Tooba Siddiqui, Sunita Marshall, Rubina Ashraf, Asma Abbass, Usman Peerzada, Seemi Pasha, Zain Baig and Sohail Sameer.
The very first teaser of Khuda and Muhabbat 3 was just released. Watch it below:
Your wait is OVER!!

The first look of most anticipated project Khuda Aur Muhabbat
More details to follow soon!#GeoTV #HarPalGeo #GeoNetwork #7thSkyEntertainment #AbdullahKadwani #AsadQureshi #KhudaAurMuhabbat #FerozKhan #IqraAziz #WajahatHussain pic.twitter.com/JcCMoOpmUy

— HarPal Geo (@HarPalGeoTv) January 1, 2021
In the teaser, Feroze Khan is seen clad in a black 'abaya' and Iqra Aziz in a black shalwar kameez and continues to show the transitional phases of their relationship.
Here's how social media is reacting to the first look of KAM3:
https://twitter.com/LubzCreation/status/1345780257329037315?s=20
Yaaahh, plus I looooveee feroze khan's acting so I am definitely going to watch itt

— ʀᴜᴘ (@__sarphiri_) January 3, 2021
#KhudaAurMohabbat3
Mehboob auron pe mehrbaan Ashiq pe sitamgar hote hain💫

So pumped for this one😍They both look really good together❤#KhudaAurMohabbat3 #IqraAziz #FerozeKhan pic.twitter.com/3XqJvfKyCo pic.twitter.com/BMJub9OxXt

— Mareeha Khalid Gill (@GillMareeha) January 4, 2021
Khuda Aur Muhabbat 3 is all set to release on the 15th of this very month. Feroze Khan and Iqra Aziz fans are super ecstatic. What are your thoughts on the upcoming serial! Let us know by dropping a comment on our Instagram page!