Actress Sabeena Farooq blasts PIA for mismanagement as the airline cancelled over 20 flights, creating trouble for passengers. 'Should shut down completely for my 16-hour delay', posted Farooq lamenting the current state of government sectors.
Sabeena being one of the inconvenienced passengers criticized the airline and its staff for its managerial failures. 'Should shut down completely for my 16-hour delay.. All government sectors you made your old staff too proud and rude by not hiring new', posted the Kabuli Pulao actress to one of her Instagram stories.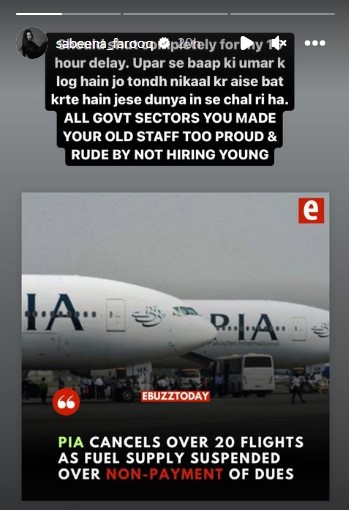 According to reports, over 20 PIA domestic and international flights were canceled, or faced a delay in wake of the suspension of fuel supply as the Pakistani state-owned petroleum corporation suspended fuel supply to the national carrier after the airline failed to clear dues despite multiple warnings.
Recently, PIA schedules and fleet utilization have been drastically reduced to improve services. From the original fleet of over 42 aircrafts the serviceable aircrafts are less than 20 now. So attempts are being made in order for restructuring and reorganizing the airline to make it more profitable and convenient for travelers.