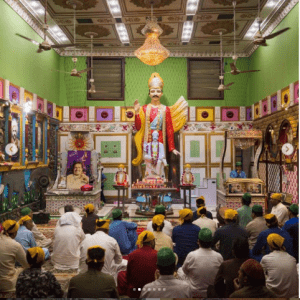 Sharmeen Obaid Chinoy announced on Instagram today that she has launched the digital platform "White in the flag" where minorities can openly engage in discussions about their experiences of living in Pakistan.
The film maker and journalist who had won two Oscars for her films "A girl in the river: a price for forgiveness" and "Saving Face", had said that the website will record the history and present situations of religious minorities in Pakistan, and is also going to collaborate with  independent educational institutions and organizations to spread awareness on the issue of minority rights in Pakistan.
On Instagram, Sharmeen Obaid explained that she had launched the platform with looking at the way religious minorities in Pakistan are consistently facing oppression and abuse, and wanted to bring attention to the rights they demanded:
"Between forced conversions, abductions, terrorism at their places of worship, and target killings, Pakistan's minorities face an uphill battle just to exist. With White in the Flag, we want to ensure that citizens experiencing religious discrimination in our society are able to have their voices heard on issues that are important to them, protect and promote their rights, have their views and wishes genuinely considered when decisions are being made about their lives and communities."
"whiteintheflag.com is an interactive website that aims to serve as a platform for students, activists, and legislators to come together and be able to discuss possible solutions to the various problems religious minorities in Pakistan face while providing a detailed record of the past, present, and future. The platform will be a source of detailed information for those interested to understand and spread awareness about the issues they face."
View this post on Instagram
What do you think of this initiative? Do let us know in the comments below!