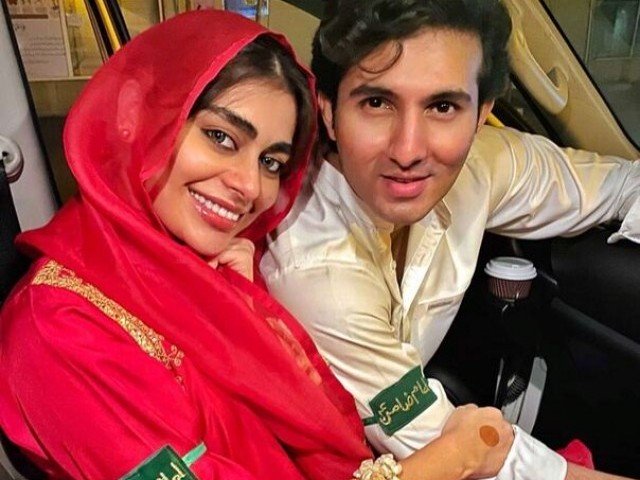 Shahroz Sabzwari just announced his Nikkah to model Sadaf Kanwal, sending social media into frenzy, quickly becoming the talk of the town.
Read more on Shahroz and Sadaf's Nikkah here.
While many fans and followers sent their good wishes and prayers to the newly weds – some called the two out and projected certain accusations regarding infidelity and home wrecking. Shortly after the massive backlash came in, Shahroz took the matters in his own hands and decided to come forward via a video addressing the accusations made by people.
The Dilruba actor cleared the air regarding his marriage to Sadaf Kanwal, completely turning down all 'cheating; rumours. "My separation with Syra happened in August 2019 and the reason for that is not a woman, is not Sadaf, is not infidelity," he shared.
Watch the video below:
https://www.instagram.com/p/CA5g-MajF1h/
After the video came out, Twitter went buzzing again. Here's what people are saying.
We have no right to breach anyone's personal life..the people who are objecting upon you will continue to do so because of their negativity. We don't know your circumstances so please live your life. Don't ruin your moments 🙏🏼❣️

— Komal Mushtaq (@KomalHakimk) June 1, 2020
https://twitter.com/EmmaFelton11/status/1267754487420268544
I don't know why people are interfering in someone's life if i read the comment section so i feel that Pakistan has controlled all the issues like Covid,Electricity,Kashmir,Loans, Literacy, jobs & Poverty & the only issue is remain in Pakistan is Sheroz

— Mirza Nauman Baig (@Nomi24Dec) June 2, 2020
Dunia kisi b hal my Jeeny nhi deti ap Apna nikkah enjoy kren @ShahrozSabzwari Or inko krny den jo b Krty hen ye video bht hai un jahilon k liye…

— Sana Ch 🇵🇰 (@SanaCh55954351) June 2, 2020
Its definitely a private matter and you guys have handled it with dignity. I can also relate with why you are making this video otherwise these trashy critics deserve no explanation.

— Adeel 🥇 (@O_that_Adeel) June 2, 2020
You acted much better here than you did in this video. Lo andaza karo!!! pic.twitter.com/PNR7VkzAGl

— Haris میاں (@harismian) June 2, 2020
Now when you've sworn on Quran. Nothing left to judge. Now it's between you and your Lord.

— Name (@NJ80012047) June 2, 2020
Why are people bashing him? Why he needs to stay quiet? I think he cares about the fact the how people will ruin his daughters life too. If their child has two happy homes with two happy parents then thats a win-win situation as opposed to a massive loss for everyone!

— Sarah (@SarahZaki123) June 2, 2020
While Twitter seems to remain divided again, we hope everyone can put their differences aside and focus on unity as it sure has been a very heavy year – from the pandemic to the recent tragedies inclusive of the airplane crash and untimely deaths are mere reality checks of how short and unexpected life is. We must do whatever it takes to make the most of our time, because like they say, 'You only live once!'