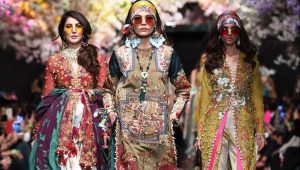 Sana safinaz took to the ramp with a solo show to start the FPW SS19. The results were mesmerizing as the crowd remained hooked to a show that set the tone for the entire fashion week. With flowers tucked to every corner of the ramp and enthralling background score, the ambiance was perfectly created to illuminate the 'Message from east' being delivered in full spirits. This time, the black-iridescent ramp led the way to a catwalk lined with delicately whimsical flowers and an awe awakening collection.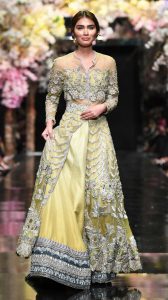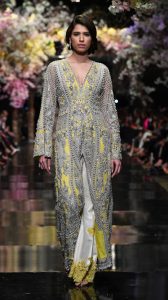 The Sana Safinaz girl is fierce yet deeply rooted in her culture. The collection was a multifarious and plentiful assortment covering heritage, utility and artisanal. The designers chose to highlight the woman behind the inspiration giving all power to the different personalities through each of the garments as they nodded to both history and celebration, keeping in line with the brands philosophy. Today's young women have a desire to clothe themselves in something that doesn't only look good but has a story to narrate.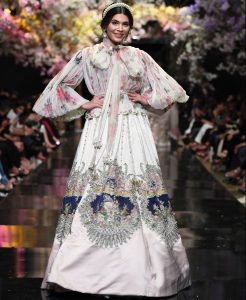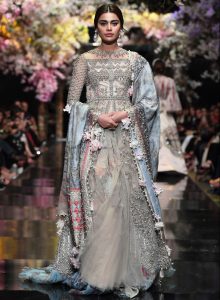 The collection was an assortment of bridals, formals and well unending veils and trails.' A poetic inspiration from Iqbal's 'Payaam e Mashrik' ,Message from the East' was a mixture of all things eastern capturing the essence of easterly embroideries and embellishments with a touch of ethereal realm, brides descending straight from heaven, with sheer veils and pearly tiaras. There was immense importance placed on embracing the color of spring in both print and appliqué.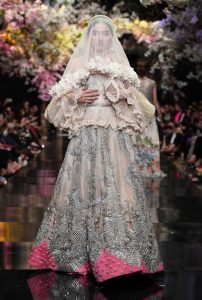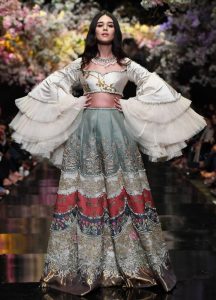 Silhouettes were longer and floor swishing, the trails were longer the fringes were longer than before. More of everything was the code of the ensemble yet everything was just the right amount of splendor to leave us gasping for more.
The very subtle menswear was paired with beautifully printed and embroidered shawls and the unmistakable styling associated with the fashion house didn't miss a spot. This collection creates the perfect balance between eastern aesthetics and high fashion couture. The Sana Safinaz girls; Sadaf Kanwal, Amna Baber and Alyzeh Gabol closed the show with breath taking bridal ensembles with exquisitely draped gowns and lehngas.