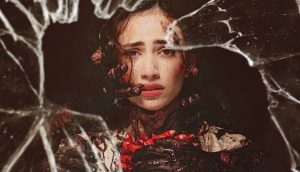 Ruswai just aired its 22nd episode, and shortly after, Sana Javed's performance as Sameera in the drama serial became the talk of the town and here is why!
Drama serial Ruswai tickles the sensitive subject of rape and the turmoil it causes. The title features Sana Javed as the rape victim as Sameera who is a doctor by profession and is married to Salman, played by Mikaal Zulfiqar. Ruswai's latest episode left the viewers overwhelmed with emotions courtesy of Sana Javed's heart-wrenching performance.
The latest episode showed the sad demise of Sameera's father. The scene had the audience in tears and overwhelmed as the actress executed it with laudable precision.
The Twitterati have been singing praises of the Khaani actress and her moving performance. Here is what they had to say:
#SanaJaved was believable and we absolutely loved her acting in the last episode of #ruswai Who else watched this drama🙋🏽‍♀️ Abba will be missed! pic.twitter.com/p5VAbMlijY

— MediaSpring PK (@MediaSpringPk) February 27, 2020
Sameera's father kept asking for her forgiveness but she always ignored him. And now when he was in coma she kept asking him to wake up and talk to her and was asking for forgiveness. But he died. Uff this scene broke my heart. @IamSanaJaved 💔💔😭#Ruswai • #SanaJaved pic.twitter.com/umW6nPPAsQ

— 𝐁𝐞𝐛𝐞. (@Beenishmuffin) February 25, 2020
@IamSanaJaved this scene had me in tears! Samira has gone through so much pain and you totally nailed each and every scene. #Ruswai #sanajaved @arydigitalasia #drama pic.twitter.com/zjL0gZbUWB

— fatzz1 (@fatzz1) February 27, 2020
Sameera #sanajaved iz such a brilliant actress!! Well she iz still in trauma so the behaviour towards her father is pretty obvious….itna gussa tu bnta hai!! It takes time to get things in normal!!#Ruswai https://t.co/dBkC9RA9Fo

— Sundas Shabab (@SundasShabab) February 19, 2020
The Khaani actress undoubtedly executed her character to the core marking it as one of the most solid performances of her career!
Watch the latest episode below:
Are you also following Ruswai? If yes, then let us know what you think about Sana Javed's performance as Sameera by leaving a comment on our Instagram page.
Read more on the drama serials here.