As Sahad fans patiently await the official wedding festivities to kick off for Sajal Aly and fiance Ahad Raza Mir, we decided to look back at all the bridal makeup looks worn by the doe eyed bride-to-be to get a feel of what 'may' be her chosen looks for her big days.
Gracefully clad in a beige outfit with gold work paired with a deep red duppatta to compliment the pale hues – Sajal's make up look here is towards a subtler side. She flaunts a pale rose pink lipstick and a her signature eyeliner flicked to perfection, successfully accentuating her beautiful eyes.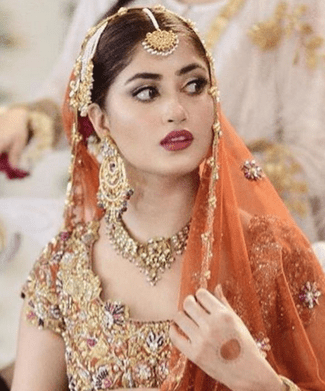 Playing with a bolder and brighter hue in terms of the outfit, the Aangan actress shows off her porcelain skin here, supporting the very 'on-trend' glass skin look complimented by a deep raspberry-red pout. This look makes for the perfect Mehndi look!
Dressed as a traditional red bride, Sajal's make up look here is a dusky matte one – best suited for the Baarat event, featuring a deep rose pout and smoked out eyes with a soft white eyeliner glided onto the waterline giving the beauty her signature doe eye look!
Sajal Aly dons another muted bridal look (suitable for the Valima ceremony). The diva wears voluminous eye lashes and skips the eyeliner, keeping the look more towards the natural side. The lips and cheeks have been given a baby pink glow to add an element of playfulness which we absolutely love!
This one can be passed on as a more made up, or rather a more glamorous version of the Valima  look. Sajal glistens in a turquoise bridal attire complimented by hues of pale golds. Her makeup look draws focus to her pretty pink pout while the eyes are kept less made-up making for a very fresh-face look!
We cannot wait to see the lovely MOM starlet as a real bride. Will she stick to subtler make up looks for her wedding or opt for more glamour ones – let us know what you think by leaving a comment on our Instagram page.