Acclaimed actress Saba Qamar recently made a concerning post, revealing that she is currently hospitalized due to battling a severe lung infection. The actress urged everyone to stop using diesel because of health risks, after suffering from lung infection due to being exposed to diesel on sets.
Taking to her Instagram stories, the actor shared a picture from what seemed to be a hospital bed with a drip around her hand. Sharing her ordeal, Saba wrote that she has been suffering from lung infection 'because of the diesel being used very commonly on sets to create smog effect'. The actress urged everyone to stop using the fuel because of the health risks it presents.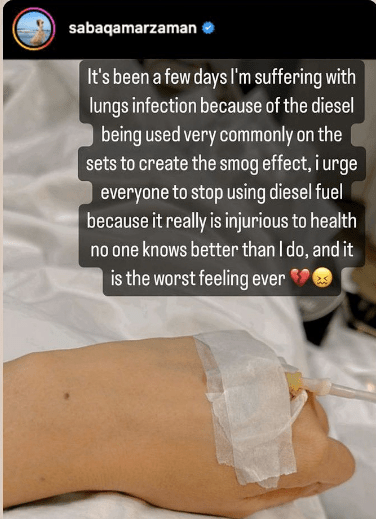 Previous studies have indicated that "exposure to diesel exhaust can lead to serious health conditions like asthma and respiratory illnesses and can worsen existing heart and lung disease…  These conditions can result in increased numbers of emergency room visits, hospital admissions, absences from work and school, and premature deaths." The incident presents a serious concern for all the production houses currently still using diesel or related fuels for smog effect.
We wish Saba Qamar a speedy recovery 💐 and hope for an end to the serious menace of using diesel for smog effect!