With the growing number of drama serials addressing various societal issues, we bring to you the ultimate must-watch title for this week, drama serial 'Ruswai' – starring Sana Javed and Mikaal Zulfiqar in the lead roles. The title just aired its second episode and we are already hooked!
https://www.instagram.com/p/B3Cmf14HCro/?utm_source=ig_embed&utm_campaign=dlfix
The drama serial is based on the kidnap of a young girl and the torment she goes through after the ordeal and the impact it has on herself and the people around her.
The intense teaser of the drama serial goes on to show Sana Javed playing the role of a young headstrong doctor 'Sameera' having a good time over dinner with her family. Just when they begin to make their way back to their car a tragedy strikes and Sana gets kidnapped by lurid men impelled by frustration right in front of her family, leaving all members shocked and devastated!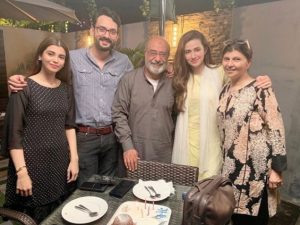 The drama serial not only goes on to shed light on the subject of kidnap, but also on other societal norms like 'watta satta'. Director of the serial,  Rubina Ashraf – a former actress spoke of the idea and inspiration behind making the drama stating that while we raise sons, as a country, we do not necessarily raise good men – and in this story, she strives to show how good men should behave, treat and support the women in their lives.
You can watch the teaser below:
While the Ruswai has only aired two episodes so far, with solid performances and an impactful story-line, we know for a fact that this one is not to be missed!