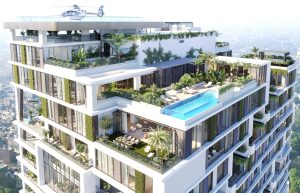 As more and more people move to cities, rural areas are shrinking and urban centres are expanding. This means more people need to be accommodated, ensuring that the city's environment is conducive to healthy communities has also become essential for sustainable urban planning. However, a major challenge that urban planners often face is how to provide the urban densification needed for growing populations without sprawling and also maintaining green spaces needed for the wellbeing of humans and other local inhabitants.
With global warming triggering extreme weather events the world over, people in Pakistan are also faced with a double whammy in the form of increasing air pollution and disappearing trees, inflicting a green emergency on their quality of life. The country's mega cities, Lahore and Karachi, have repeatedly been featured among the world's most polluted cities, with the former topping the list last year with the worst hazardous air quality levels.
In addition to this, Pakistan is losing almost 27,000 hectares of natural forest area annually – in part due to urbanization –stripping itself off natural air-purifiers. The natural area lost to built-up area over time results in an increase in the land surface temperature of the city that adversely affects biodiversity, results in heat waves, and increases pollution, leaving people gasping for clean air to breathe in the midst of congested urban landscapes.
Noting these circumstances, Pakistan is now all set to welcome its first-ever vertical forest luxury apartment complex nestled opposite the Lahore Gymkhana at No. 4 Jail Road, Gulberg Lahore.
Forest V, by the 101 group, is a switch to sustainable thinking in engineering climate–smart and energy–efficient buildings, while holistically redefining what constitutes luxury apartment living in Pakistan. The project brings the largest apartments designed in the country till date including a terrace for every apartment's biophilic design centrepiece, customised for each homeowner.
Globally, traditional skyscrapers are becoming a thing of the past, and rightly so, because of the bane they pose to the environment through the unsustainable materials used for their construction and maintenance. Instead, high-rise buildings covered with trees and shrubs that look like tall or raised forestsare now taking over the mega cities around the world including Milan, Shanghai, Paris, Sydney, and Bangalore. These residential structures, draped in greenery, are known as vertical forests that incorporate trees and plants in urban architecture and are poised to set a new standard of urban living.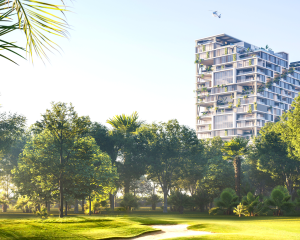 Inspired by the world's first vertical forest, the Bosco Verticale in Milan, Forest V promises to bring sustainability to the centre of real estate and revolutionize apartment architectural design in Pakistan. This project is LEED Certified – a global standard that recognises buildings that are efficient, cost effective and better for occupants and the environment.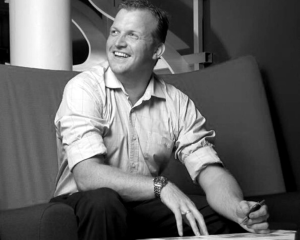 Marcus Wilkins, from the Dubai based Archi-tex, is the brains behind the Forest V project design who has over a decade of experience in designing some of Pakistan's most iconic buildings.
"These are pillar less apartments designed to be constructed on PT SLAB Structures, similarly to how bridges are constructed and designed to give the home owner a highly desired open plan living with high circulation. All apartments will have imported, high spec energy efficient glass, suited to minimize the effects of UV rays. Each apartment will have glass from the floor to the ceiling to give maximum sunlight and to enjoy the views. No other building has done this in Pakistan." – Marcus Wilkins.
This development in Pakistan is right on cue given how the metropolis has been showing extreme effects of urbanization with increasing pollution, frequent heatwaves and urban sprawl.
The vertical forest system addresses these very problems and allows sustainable survival of contemporary cities. The core idea behind this residential system is to integrate sustainability into city living and return to the tranquillity of living in harmony with nature and the climate.
Forest V by the 101 group brings together some of the best design and engineering minds available globally including Habib Rafiq. Engineers and Design Partnership Australia to build this modern marvel in Lahore, and features Pakistan on the global map of building the future of living vertical while working on a sustainable and energy efficient building design that reduces the urban island heat effect.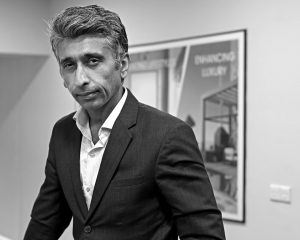 Circular system designer and biodiversity design consultant, Turab Randhawa from MGVCP.COM says, "The 101 group is raising the bar of how we design urban buildings and responsible real estate in Pakistan with Pakistan's first vertical forest designed for luxury living within biophilic design. We are happy to work with them and consult on the ethos of the project and creating the systems with their engineering teams, architects and global interior design team for developing the biophilic ecosystem of the building."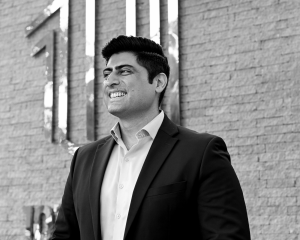 Sharing his views on launching Pakistan's first vertical forest, Mr Asim Iftikhar, Director of Sales & Marketing at the 101 Group, says, "Our target customers are global Pakistanis, predominantly from USA, Canada, the UAE & Saudi. They demand smart buildings and luxury apartments that are world class and are energy efficient also. They want larger apartments and are committed to the maximisation of space so we are designing less apartments per floor, which is a key demand for our overseas customers to have the luxury of space without the hassle of maintaining larger properties and the hassle of maintaining the home and domestic employees while they are overseas.  Creating Pakistan's largest full-service apartments as a luxury vertical forest resonates with our buyers internationally who don't have an issue paying more for a once in a lifetime property investment that will naturally give higher returns on their investment."
As our cities continue to grapple with air pollution, housing shortages, and climate change, this new generation of high-rise urban buildings will help drive reforestation contributing to the regeneration of the environment and urban biodiversity. These buildings are mainly characterized by large and overhanging balconies that accommodate vegetation and support the growth of larger trees. The green curtain, created as a result, filters sunlight, creates a welcoming microclimate, regulates humidity, absorbs carbon dioxide and microparticles, and produces oxygen. In addition to ensuring environmental sustainability, vertical forests also help in limiting urban sprawl, restricting the geographic expansion of cities, low-density residential housing, and single-use zoning.
Considering the country' current urban infrastructure, sustainably-designed architecture is the need of the hour and shifting the focus towards nature needs to be the top priority now. Setting up vertical forests in Pakistan's metropolises whose natural greenery is disappearing due to inefficient urbanization can help tackle environmental threats, conserve nature, and ensure good health and wellbeing of its people all the while promoting sustainable cities and communities in line with its sustainability goals. The first step has already been taken in the form of Forest V's project by the 101 Group. More projects based on this concept in the country's mega cities can help transform the quality of life in Pakistan.