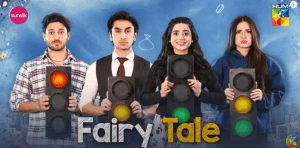 A fresh cast with a simple plot, haters to lovers trope, witty dialogues and great direction make up for a spectacular Ramzan drama. Fairytale ticks all these boxes and more! The drama has been trending on Twitter for a while because its making many hearts skip their beats.
The protagonists Umeed and Farjad are surprise…surprise, polar opposites. Umeed is a naïve yet ambitious girl who wants a fairytale of a life and is looking for quick ways to make that dream of hers come true. Easily scammed, Umeed is sweet girl with larger than life dreams much like her name. Farjaad on the other hand is the cold, organized, no space for emotions kind  of a guy because life has thrown a fair share of struggles his way. Of course, Umeed is all set to melt his iron cage heart with her warm and fuzzy personality.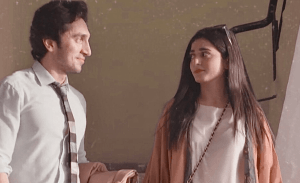 The character of Farjad is played by Hamza Sohail adored as a debut star in Hum TV's 'Raqeeb Se'. Umeed is played by the vivacious Sehar Khan. The chemistry between the two youngsters is definitely something to look out for. The actors are convincing in their roles and ace the comedic moments with panache. This project marks the television debut of Adnan Raza Mir and also features Ali Safina, Saman Ansari, Aena Khan, Saleem Sheikh and others in prominent roles. Fairy Tale has been directed by Ali Hassan and written by Sarah Majeed
Scroll down to see Twitter going gaga over their chemistry, sneaky romantic scenes and the simple and sweet plot.
mr grumpy and self-disciplined farjaad's life taking a 360 degree turn ever since he met umeed 🤩#Fairytale #HamzaSohail #SeharKhan pic.twitter.com/wlHQNwLs4G

— ayesha (@petrichorluvrs) March 29, 2023
CRYING SHAKING THROWING UP 😭😭😭❤️❤️ i had thousands of butterflies in my tummy umeed farjad for real ???? 😭😭❤️#FairyTalepic.twitter.com/AZzft7dy2o

— Confused soul 🍃 (@ConfusedMulgiii) April 4, 2023
when the grumpy boy starts smiling ear to ear every time she's there, you know he has it BAD bad#fairytale #farmeed #hamzasohail pic.twitter.com/qqPKe06mQu

— ⭐️ (@starfrecks) April 5, 2023
from him not being able to tolerate her presence and wanting her to be out of his house and his life TO him lying so he can drop her off and give her those heart eyes OH THINGS HAVE CHANGED AND HOW#fairytale | #farmeed pic.twitter.com/axuXEnXIUS

— a. (@hqlcyonights) April 5, 2023
the grumpy guy who hates talking to people expressing his jealousy in the loudest way we love a man in love
–#FairyTale #FarMeed pic.twitter.com/XfcRBPYyA6

— m (taylor's version) • farmeed brainrot (@sundasiee) April 4, 2023
and if i keep tweeting this for 627282 years then what? 😭 #fairytale pic.twitter.com/Sf1TbrA5hL

— lara (@itslarayx) April 4, 2023
this parallel 🤌🏻😭❤️
How he was copying her😂❤️#FarMeed #fairytale pic.twitter.com/qAthFT3z3j

— 𝙁𝙖𝙣𝙩𝙖𝙨𝙮🥀 (@vibingurlx) April 4, 2023
Ready to binge watch it? We sure are!