Ramsha Khan and Affan Waheed pair up for Shenayi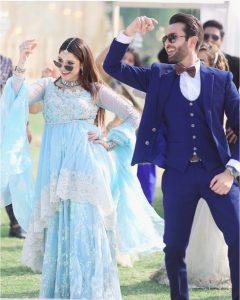 Ramsha Khan and Affan Waheed recently shared some fun bts pictures from the sets of their upcoming drama serial shenayi. The drama will be airing on Ary Digital and is a project of IDream entertainment.
Ramsha is in the spot light these days with her on going drama ghisi pitti mohabbat. She is being praised for her brilliant actings skills and her witty character in the drama. She is gaining alot of fame as her role in the drama gives a positive message to every one out there who is going through some major struggles in their life.
Affan has already made his mark in the industry with some great projects on his credit. He rose to fame from his drama serial Du Bol with Hira Mani which kept on trending on YouTube for a very long time.
The talented duo will be sharing the screen soon for the first time and fans just cant contain their happiness. From the bts pictures and the title of the drama we can assume that it will be revolving around the festive vibe of weddings.
We completely love the first look where both Ramsha and Affan are dressed up for a wedding. Ramsha is wearing a beautiful ice blue attire whereas Affan is seen wearing an electric blue suit and the picture radiates a great amount of joy and happiness. Cant wait to see some more images!!