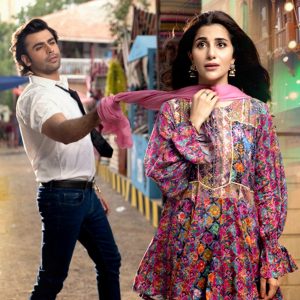 Prem Gali just aired its 13th episode and as usual, the audience really appreciated the episode altogether. From the light-hearted storyline to quality comedy with a tinge of sweet romance, the drama serial truly sets itself apart from other serials being aired these days.
(Read more on Prem Gali here.)
The latest episode of Prem Gali covered the preps of Hamza and Joya's much awaited wedding along with Luqman's interference. The episode followed the them of the serial – it was light-hearted with a tinge of wittiness. The episode hinted on Javed Sheikh's entry in the drama serial and since then the audience has grown very curious and ecstatic at the same time. Hamza and Joya's wedding is set in the upcoming episode.
The audience took to Twitter for the routinely weekly feedback of the serial's episode and this is what they had to say:
#premgali Kahay ko biyahi badais brought tears 😭 how every daughter is sent to live with someone else after a lifetime. All daughters should be as happy as #Joya was in #premgali #farhansaeed #sohaialiabro

— Help (@hypesleek) November 11, 2020
Jawid sheikh is obviously joya's dad, funny that his son played his younger self #PremGali

— AsYa coming March 12 (@_ITrendMyShips) November 10, 2020
Prem Gali is sucha beautiful serial🥺♥️

— ونیزا (@vaniza_08) November 10, 2020
#premgali is such a well written drama 😂❤️.

— Gia Khan (@Khan_BilloRani) November 10, 2020
No one can do better comedy than Farhan from the current lot. He's indomitable. And WHAT an amazing cast! Everyone's so damn good specially Qavi Sahb,Waseem Abbas Sahb and Shamim Hilaly Sahiba! PG is the only drama I follow these days. It isn't taxing UNLIKE others.
#premgali

— E (@lightbearinghs) November 10, 2020
Do watch #PremGali because its amazing….. 🙂 ♥️

— ☂︎︎ (@PhoolSeKhushboo) November 10, 2020
Another one!

Joya and her family/friends on Maahi Ve. 💜😭🥺

I can't with how much I loved yesterday's episode. 😭❤ please stream#PremGali #FarhanSaeed #SohaiAliAbro @Qasimalimureed @farhan_saeed pic.twitter.com/X73eyRt0A7

— Zo / #StandWithKashmir (@zo_StydiasJeep) November 10, 2020
The viewers of Prem Gali took to social media to appreciate the well-written scenes and dialogue in the drama serial as well as the casts' quality performances.
Are you also following Prem Gali? If yes then let us know what your views are on the latest episode by dropping a comment on our Instagram page!
Until next time!