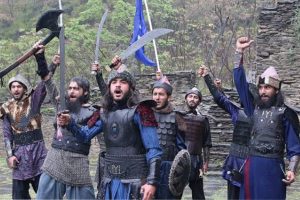 Pashto version of the very famous Turkish historical series Diriliş Ertuğrul will release after Eid by a group of young YouTubers from Swat.
The Turkish series made waves on the internet since last year when it started airing on PTV on the directives of Prime Minister Imran Khan. It was a massive hit and many re-created its theme song and many female fans started copying the look of the character Halima Sultan. Many designers even started working with the cast of the series by making them their brand ambassadors.
The young group is from Odigram, a histroical town of Swat valley were inspired by the Turkish history series after PTV started broadcasting an Urdu dubbed version. The group has almost 150 young boys who are shooting the series at different locations in the Swat valley, with a majority of the scenes being shot at the seventh-century archaeological site of Raja Gira Castle and 11th century Mahmood Ghaznavi Mosque, both of which are in Odigram town.
Muhammad Abbas, a student of BS Mathematics at the Government Post Graduate Jahanzeb College, is essaying the role of Ertuğrul Ghazi in the drama besides also serving as the producer. Other roles for the dramas have been assigned either according to looks or preference.
Abbas said that he and his friends have been collecting their pocket money to make wooden swords, axes, shields as well as jackets with low-cost materials. They have also made iron swords and leather jackets used in the original Turkish series.
He further said, "I also work as a tailor after school so I know how to sew the jackets. Now we are such experts in making the dresses that we receive orders from different parts of the country." Accoring to Abbas the shooting of the drama is almost complete and just the editing is left which they will also do themselves though they have a few offeres from different editing companies.
The young YouTubers plan to make some more films based on our own  historical heroes if are supported. We wish them all the very best and we cant wait to see this pashto version.