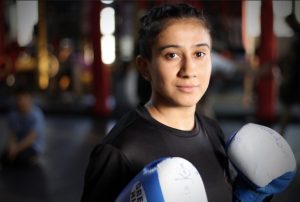 It takes a lot of courage for women in Pakistan to break free from societal chains and do something that's different from the stereotypical roles dictated by society. Women in Sports have always found it a challenge to overcome these hurdles. We are so proud of all of our Sports women who continue to let their passion shine by doing their best despite of the lack of resources and encouragement from the masses.
Anita Karim, Pakistan's first female MMA fighter who hails from Hunza has won multiple national and International bouts and she continues to impress us as she beats her Aussie opponent at the Lumpinee Stadium in Bangkok. The 25-year-old fighter beat her opponent Uyen Ha in all the three rounds of the bantamweight fight.
Anita took to Twitter to announce her win and gave a shoutout to her team Fairtex Fight promotion.
Another one, Alhumdulillah 🇵🇰👊🏽♥️
All praises to the Almighty☝🏽and a big thank you to everyone who showed love and support 🙏🏽
Huge shoutout to my team @fairtexofficial for the knowledge and pushing me every single day to get better! #teamfightfortress #anitakarim pic.twitter.com/E4R2dlt1Y1

— Anita Karim (@karimanitamma) June 12, 2022

Congratulatory tweets poured in once her win was announced. Scroll down to see.
Anita Karim knocked out her Australian opponent.

Anita Karim belongs to Hunza, Gilgit Baltistan. She is the first Pakistani MMA fighter.

Congratulations Anita Karim 🌺 pic.twitter.com/YVMNXgaEgJ

— Deedar karim (@DeEdaRkarim5) June 11, 2022
Anita Karim from #GilgitBaltistan #Pakistan won her match, in a spectacular fashion, against Australia's Uyen Ha in Bangkok.
A feather in the hat of PAK's first female professional #MMA athlete.
🇵🇰💪🏽@karimanitamma @ARYSports_Web @geonews_sport pic.twitter.com/ksnTQQ1eNV

— Ehtisham Karim Shaheen (@FightFortress) June 11, 2022
Congratulations Pakistan 🇵🇰

Pakistan's first female MMA athlete Anita Karim secures a unanimous decision victory over Australia's Uyen Ha, after 3 action packed rounds. She dominated the fight throughout, landing multiple mean and hard straight lefts at Bangkok pic.twitter.com/D9Kh8wjpgE

— Malik Ali Raza (@MalikAliiRaza) June 13, 2022
The most beautiful photo on internet of Anita Karim after winning her Match against an Australian boxer. The most beautiful & emotional thing in this photo is a brother's hug/support.@uloomi you are a loin!! pic.twitter.com/FFPDpCOaHL

— Comrade Sakhi Asif (@sakhiasifweer) June 11, 2022
Great spree of punches 👊
Power girl Anita Karim of Gilgit-Baltistan downs Australian opponent in mixed martial arts fight held in Thailand. pic.twitter.com/HUwWLN9tPI

— Zaighum Abbas (@zaighum_abbass) June 12, 2022
We are in awe of Anita and all the other women who pave way for young girls in Pakistan to follow their passion and make Pakistan proud.