Redefining instrumentation, soundscapes and musical glory-Coke Studio remains a regular ingredient of our music dose every year. While some criticize it for ruining the essence and glory of some legendary songs, some enjoy how it put's a modern twist to the old charmers.
With Coke Studio 12 wrapping up, we asked our team to go down the memory lane and decide which song or piece happens to be their favorite one. Scroll down for our #Officefavorites.
Tajdar-e-Haram by Atif Aslam (Loved most by our IT specialist Naveed Ahmed)
No surprises here! Atif Aslam's rendition of the The Sabri Brother's original has been loved since it was released in season 8. If you view the comments on the video's page you'll see how people from different faiths have loved this rendition and have found solace listening to it.

Paar Chanaa De by Shilpa Rao and Noori ( Boss Woman Aka Zainab Malik & Asst-Director Digital Marketing Faria Waqas' favorite )
This one will tingle the heartstrings. Based on the Punjabi folklore Soni Mahiwal, the song with its earthy tunes and distinct instrumentation coupled with the vocals of Shilpa Rao and Noori will be heavy for your heart but a treat for your ears.

Aaqa by Abida Parveen and Ali Sethi ( Team Favorite on the good days i.e when Head Editor Rubab Rizvi and Digital maestro Abdus Samad are in town)
This devotional piece will feed your soul. Sung by the one and only, queen of qawwali Abida Parveen and the magician Ali Sethi, this piece unfolds like no other. You'll end up feeling calm and contented as the piece concludes.

Billo by Abrar-ul Haq (Team's go to song to swipe left the Monday blues, loved most by the guy with the cool hair: Umair Sajid)
It's almost a millennial take on the old Billo by the man who originally created the groove around this number. This one was unanimously loved by everyone even the very stringent critics at our office😛. It's hard not to shake a leg on this one. Rap, beat, tune, lyrics; this one's a package.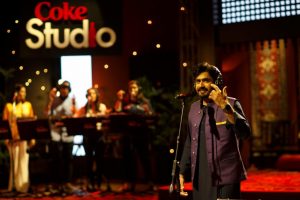 Chaap Tilak by Abida Parveen and Rahat Fatheh Ali Khan ( 3 votes!!! Loved by our digital royalty, Ifra, Mariam & Wassay)
Abida Parveen's enthralling presence juxtaposed with Rahat Fateh Ali khan's nuanced pitch creates a dynamic product the audiences truly loved to experience.

Lagi Bina by Sanam Marvi and Saieen Zahoor ( Loved most by our Creative Art Director, Tipu Azeem)
This euphoric number transports you to a land unknown. The majestic voice of Sanam Marvi combined with the raw and earthy voice of Saein Zahoor will take you on an emotional ride.

Sammi Meri Waar by Umair Jaswal and Qurutlain Baloch ( Loved by our marketing wigs Rizwan Abbas & Wajid Bhatti)
Based on oral traditions and Punjabi folklore, this piece sung by the duet Umair Jawaal and Quratulain Baloch is a sonic delight which strikes a perfect display of surr and taal.


Sab Maya Hai by Attaullah Esakhelvi & Sanwal Esakhelvi ( Loved by our Marketing fella Azhar Khan and Digital Queen Sumbal Pervaiz)
This father-son duo embark upon a journey to paint an image of the material traps that entangle us through this piece. A soundscape that delivers coupled with great voices elevates this one to one of our favorites.

Aaj Jane Ki Zid Na Kero by Fareeda Khanum (We call her Amna Wintour,naam tou suna hoga—-> Mahrang Anwer)
This one rides on the emotional landscape of love. Sung by the nightingale Fareeda Khanum and based on a nazm by Fayaz Hashmi, we challenge you not get teary eyed on this one.

Wohi Khuda hai by Atif Aslam ( das' mine 🙋)
6 minutes and 28 seconds of pure wonder, Atif outshines in this rendition originally done by the maestro Nusrat Fateh Ali Khan. As the piece progresses you feel you're a part of something larger than life. Truly a masterpiece!

Did your favorite make it to the list? If not, mention it in the comments section.