Pakistani media is mourning the death of actress Sumbul Shahid, sister of Pakistani artist Bushra Ansari, who passed away earlier today, after a long drawn battle with coronavirus.
The actress Sumbul Shahid had been hospitalized after testing positive for coronavirus, and had to be put on a ventilator on April 22 because of her deteriorating health. Pakistan's entertainment industry is torn ever since the news of the loss became public, with condolences pouring in from all sides.
Actress Zara Noor Abbas who is the daughter of Sumbul's youngest sister Asma Abbas, shared an emotional note about her khala's passing away on social media, saying:
"My Nightingale.
Nothing will ever be the same.
Rest in peace Pappo. You have left us all broken."
View this post on Instagram
 Ayeza Khan shared on Instagram, "Can't believe this. Sumbul Apa you left us so soon.".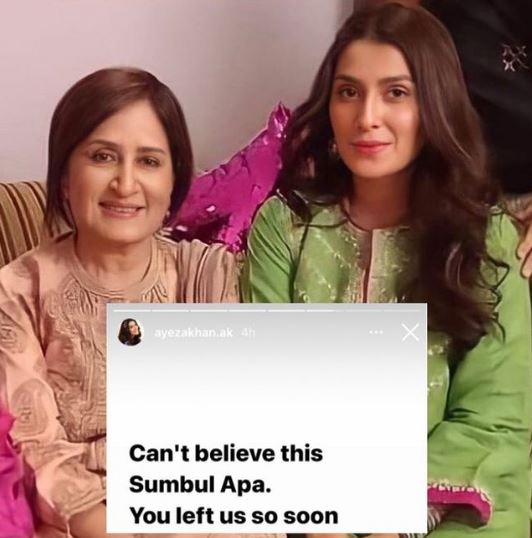 Actress Hira Mani also posted saying that Sumbul Apa will always stay alive in all of our hearts!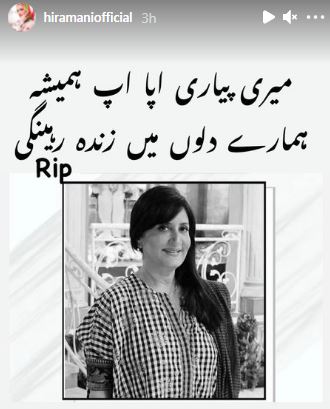 Asad Siddiqui, who is also the husband of Zara Noor Abbas posted an obituary over social media.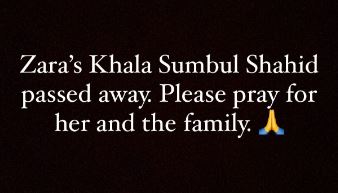 Actor Faysal Qureshi took to Twitter saying:
Finding myself at a loss of words after hearing about Sumbul Shahid. May Allah grant her the highest place in Jannah. Sending my duas and love for the family. Allah give us all strength to deal with this magnanimous loss. إِنَّا لِلّهِ وَإِنَّـا إِلَيْهِ رَاجِعونَ pic.twitter.com/akTQCsChpU

— Faysal Quraishi (@faysalquraishi) May 6, 2021
Minal Khan also expressed her sorrow and heartbreak.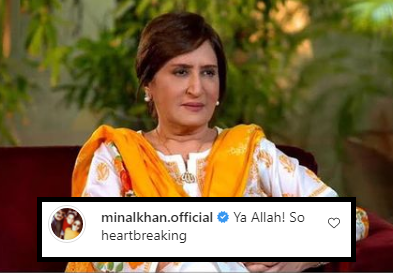 While Osman Khalid Butt also sent support and prayers.
Inna lillahi wa inna ilayhi raji'un.
Please take a moment to pray for the departed soul, Sumbul Shahid ji.
May Allah grant her the highest place in Jannah, and give her family the strength to cope with this loss.

— Osman Khalid Butt (@aClockworkObi) May 6, 2021