As per reports, 'Queen of Sufi music' Abida Parveen and famous actor Imran Abbas are working for an upcoming Sufi song the two will be recording together.
The Meri Zaat Zarra-e-Benishan recently confirmed the post, sharing the news in a post on his Instagram story.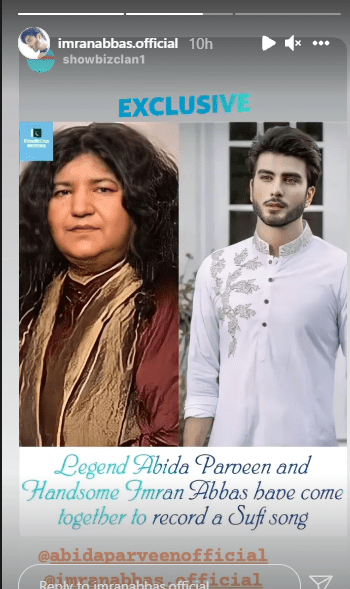 The legendary Abida Parveen, known for singing in her impassioned, loud voice, has delivered many memorable hits such as Yaar ko Humne from the album Raqs-e-Bismil and Tere Ishq Nachaya which is a rendition of Bulleh Shah's poetry. She was bestowed Pakistan's second highest civilian award Nishan-e-Imtiaz in 2012 and the highest civilian award Hilal-e-Imtiaz in 2021.
On the other hand, Imran Abbas is best known for his skills as an actor. But he also frequently dabbles with music.
View this post on Instagram
The actor frequently croons famous tunes and songs, sharing them with his fans and followers.
View this post on Instagram
Are you excited about this new collaborative venture from this ultra-talented duo? Let us know in the comments below!