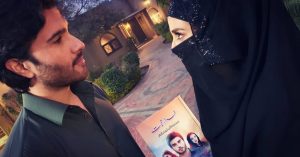 Feroze Khan and Iqra Aziz starrer Khuda Aur Mohabbat 3 just dropped its official trailer and fans are beyond ecstatic.
The drama serial, Khuda Aur Mohabbat 3 is directed by Wajahat Hussain and written by Hashim Nadeem under the production of Abdullah Kadwani and Asad Qureshi's 7th Sky Entertainment.
In the serial Feroze Khan will be playing a confident young boy from a lower middle class background. The plot and storyline  of the serial will revolve around love and spirituality. He will be starring against 'Jhooti' actress Iqra Aziz.
Besides Iqra Aziz, the cast of Khuda Aur Mohabbat Season 3 includes Junaid Khan, Javed Sheikh, Tooba Siddiqui, Sunita Marshall, Rubina Ashraf, Asma Abbass, Usman Peerzada, Seemi Pasha, Zain Baig and Sohail Sameer.
Watch the official trailer below:
The countdown comes to an end!

Presenting the official trailer of our long-awaited drama serial #KhudaAurMohabbat. @FerozeKhaan#HarPalGeo #GeoNetwork #7thSkyEntertainment #AbdullahKadwani #AsadQureshi #FerozeKhan #IqraAziz #WajahatHussain pic.twitter.com/bpJAnaDzvs

— HarPal Geo (@HarPalGeoTv) January 21, 2021
The trailer shows a complicated love affair situation featuring Feroze Khan and Iqra Aziz. Here's how the audience is reacting to it:
@danialhussain24 did you see trailer of Khuda Aur Muhabbat ? #Ferozekhan is just 🔥🔥🔥🔥🔥

— Saadii (@SaadiSpunk) January 21, 2021
Khuda Aur muhabbat season 3 ka ost bhi acha hai 😍

— syedaaa (@rameenali55) January 22, 2021
Khuda aur mohabbat trailer looks good ngl

— م (@OMDItsmee) January 22, 2021
Omygawwd feroze n iqra's chemistry 🔥 release it asap pls #KhudaAurMohabbat https://t.co/63G2Ow9azi

— ʑ || RKVɪᴀɴ ||✨🎸 (@xeelicious_) January 22, 2021
Reportedly the drama serial is expected to release on the 31st of January. Fans and followers of Iqra Aziz and Feroze Khan are impatiently waited for the release of the drama serial. The trailer has done a great job of adding to their curiosity.
What are your thoughts on Khuda Aur Mohabbat 3's official trailer? Let us know by dropping a comment on our Instagram page. 
Until next time!