Jalan takes a new turn as Ahmer makes a comeback!
Jalan is all about greed and betrayal! The drama has been airing on Ary Digital and has been in the spotlight for its controversial script. Jalan has been trending on YouTube with a million views per episode.
The story revolves around two sisters Misha (Areeba Habib) and Nisha (Minal Khan). Nisha destroys her sister's married life by manipulating her husband Asfandyar (Emmad Irfani) and then eventually getting her sister divorced and later gets married to Asfandyar.
The drama took some great turns leaving fans surprised at one point and in tears at another! The saddest episode which unfolded till now has been the one which showed Meenu's death.
As the drama is going towards the climax, new changes are coming up. Ahmer who was struggling is now a rich business-man and has come to Karachi for a business meeting.
Nisha and Asfandyar shift to a new house as Asfand's sister no longer wants to share the house with them. Nisha is now disappointed as she thinks she took a wrong decision to marry Asfi who does not seem to be that rich now due to which the couple is having a rough patch in their married life.
Nisha who by chance gets to see Ahmer as her neighbour is surprised to see him and his rich status.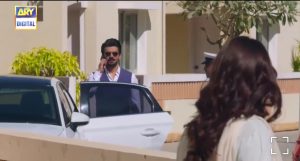 Fans are waiting for the tables to turn as Nisha seems to get attracted to Ahmer's wealth and might start thinking to leave Asfandyar because she has been playing the character of a girl is very materialistic and greedy.
Nisha who is known for her greedy nature will be seen taking another bold decision in the drama and we just cant wait to see how the drama will unfold!
Click here to read more: