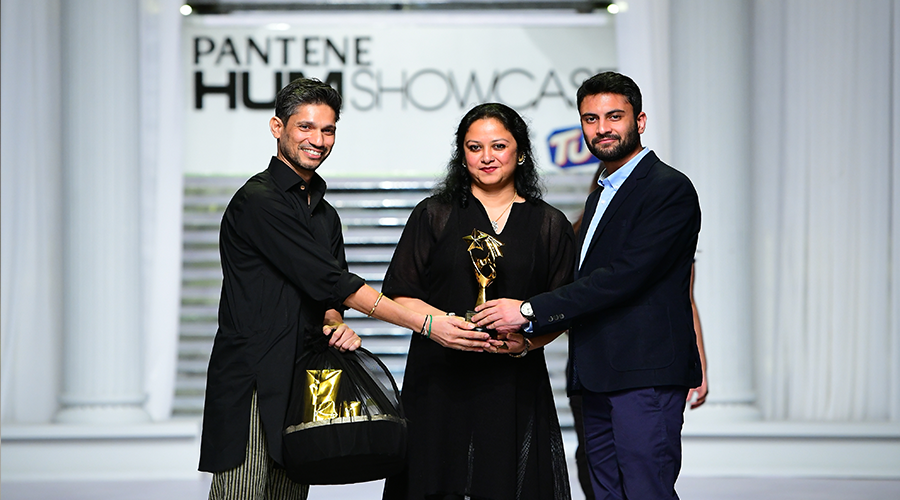 Imrana Shahryar and Umer Rehman have shaped many successful textile and fashion students while teaching at Indus Valley School of art, this year they decided to debut their own collection after years of being an active force in the field of fashion.
Here are a few questions we were keen to ask the duo for bagging the prestigious award;
How long have you been working in this industry before embarking onto a debut collection?
We are both part of the textile and fashion fraternity for more than 2 decades, mainly focusing on the academia. Alongside teaching textile and fashion we have undertaken many freelance design projects at national and international level.
What genre of fashion would you classify yourself in?
Casual men's and women's ready to wear.
Seeing the teaser we can deduce that you are more inclined towards prêt and might be inspired by the Initial brand image and product line at Khaddi, how do you think your brand will stand out from the already saturated pret market?
Prêt, yes because we feel that there is a gap in the industry which caters to comfortable, fashionable and yet well designed clothes for all. Khaadi is a big brand now in its 20th year of inception with many wings and with the recent addition of Chapter 2 they are looking back from where they started i.e. hand loom fabric.
Pakistan has a rich and diverse hand loom tradition spread all over the country and unfortunately it is not given the due attention considering its vast potential. The market is not even close to be a saturated one when it comes to well-designed hand loom fabrics for the contemporary market without losing its identity.
Looking at the Pakistani fashion market it can be said that it's very crowded already, what gave you the confidence that you will sustain the pressure ?
U&I is a conscious attempt to highlight the multi-faceted hand loom tradition of Pakistan and highlight its potential by incorporating handmade pure cotton fabrics for mainstream fashion garments for men and women.
Our fabrics are designed and woven with a lot of love and care to achieve the right weight suitable for our weather without compromising the handmade feel which is durable yet breathable. We aim to keep the tradition of handloom weaving alive and see the weaver's community prosper towards an improved livelihood.
How do you think you can contribute to the sustainable market?
The brand aspires to be a trend setter and stay at the forefront of fashion keeping social responsibility and sustainable design practices the core of what we do. We believe in the sovereignty of learning from tradition and celebrate the endurance and contemporary attributes it has to offer.
In 2018 the two of you were part of a faculty exhibition at Indus valley called Dehleez, was it a milestone in your journey and can it be credited for this collaboration?
As we mentioned earlier that both of us are a part of the academia, Imrana Shahryar being the Head of the Textile Design Department and Umer Rehman is the In charge of the Fashion design program at IVS. The exhibition was an attempt to showcase the diversity of the Textiles and Fashion mediums from a more conceptual approach and perspective.
No it was an individual body of work showcased as a group exhibition of 10 Textile and Fashion faculty members at IVS.
When did you realize you had common aesthetics and could be a duo brand?
We have been working together for a decade now and collaborated for various projects national and international. Both of us are passionate towards what we do and have a very distinct individual identity. We are highly critical about our own and each other's work and the end results have always had a positive cohesive outcome.
What is the reaction and outcome you're expecting from this debut?
We are hopeful that the audience will have a positive reaction towards our debut collection and will appreciate the hard work and thought gone into promoting our strong cultural identity through fabrics and silhouettes for the contemporary market.
What are the upcoming plans for the brand?
The plan is to stay true to our commitment towards traditional identity and sustainability. Every collection that we hope to design will have something new for the audience which they can enjoy and appreciate for a long time.
What are some of the new techniques we should be expecting from your brand, other than the staple weaving technique?
Hand woven fabrics will always be the starting point for every collection that we create. The potential of hand loom fabric is extremely vast with endless possibilities as it adapts to almost all styles. Same is the case with our classic garments like a basic Kurta, Shalwar and angarkha that can be fashioned with a contemporary silhouette for the woman of today.
Our design approach is easy but intelligent to offer the wearer freedom of style by pairing upper and lower garments to suite their individual style.