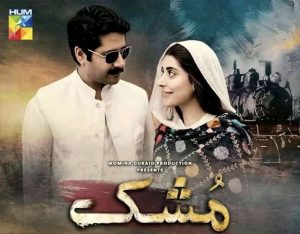 Mushk is 12 episodes in and the audience is hooked! Time to time, drama critics head in for a check on how the Pakistani television audience is responding to a particular drama after its been airing for a while – Mushk has not once let anyone down as people continue to love Imran Ashraf and his creative talent.
Directed by Aehsun Talish, produced by Momina Duraid and written by Imran Ashraf, Mushk is definitely not your average drama serial. With a deep storyline by the very best and a stellar cast, it was bound to garner attention. The dialogues from the show have gained special attention and appreciation from the viewers.
(Read more about Mushk here.)
Here's what the audience of the drama serial is saying about it:
@IamImranAshraf
ILFAZ jazbaat ka aur jazbaat insaan ka ayena hotay hain. Aik ayenay ki asal mei koi haqeqat nahi.Ayenay ko khoobsurat aik khoobsurat insan ka aks banata hai."Mushk" is a mirror and two factors are making it beautiful.1)Aadam's character 2)Imran Ashraf's writings

— Abdul Rafay (@AbDuLRaFaYhere) October 30, 2020
@IamImranAshraf sir ap kud itny serial q ni leakty sir you are multi-talented person….@
Great Personality Great Actor Great Writter And great human being love you sir @IamImranAshraf #Mushk @

— Imranashraf_fanpage1 (@Imranashraffan1) October 24, 2020
Imran Ashraf is a versatile actor indeed ❤
But what a writer he is 💯👏
The dialogues of Mushk written by him 🔥
And the way the characters are portrayed and specially Guddi by Urwa 💓 and their team deserves to be appreciated 👏❤#ImranAshraf #UrwaHocane #Mushk pic.twitter.com/x0GXZlU4QX

— Warda 💫 (@itxx_warda) October 21, 2020
Watched Drama Mushk's 5 epis in one go

HATS OFF TO IMRAN ASHRAF AWAN.
WHAT A TALENTED WRITER. AN AMAZING ACTOR, A HUMBLE MAN…!!!

— Ants Everafter (@TheNamalGirl) October 19, 2020
Muje aisa Lagta hai Ki yeh khushiyan bare khod-dar hote hai, apne ane see pehle ik Saza Ki sorat mai apni Kimat ada kar dete hai advance mai..! (Imran Ashraf) *Love this drama ..😍😘❤💙💚#Mushk
@VJURWA pic.twitter.com/FrIpLp5I1S

— Hamzahh💚💓 (@HamzaZafar2020) October 12, 2020
Imran Ashraf also keeps checking in with his fans and followers on what their views are on the episodes of the drama serial. Here's his last check in for the 12th episode and the audience is clearly overjoyed and happy with the flow of the show.
https://www.instagram.com/p/CHBE4XBFd7e/?igshid=194k7n9h3n0ye
Are you also following Imran Ashraf's Mushk? If yes, then let us know what your favourite dialogue is from the drama serial by leaving a comment on our Instagram page. We would love to hear from you.
Until next time!