Actress Saeeda Imtiaz responds to netizens commenting that fake news of the actress's demise were part of a stunt to gain publicity and social clout. "If it was a publicity stunt I'd be doing press conferences right now", wrote the actress.
The Tamasha participant addressed rumors in an Instagram post saying "If it was a publicity stunt, it was a good opportunity for me to be doing press conferences and interviews. Media was right outside my house. I could have easily done it."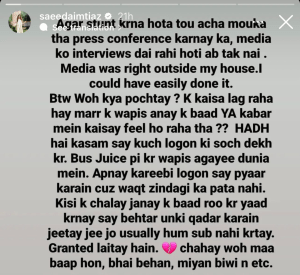 Earlier, rumors of Imtiaz's death had made rounds on social media on Tuesday after a post was found on her Instagram account announcing that the actor was found dead in her room. Soon after, however, the actress clarified that she is in fact alive and well, saying that announcement of her death was the result of her Instagram account being hacked.
Uploading an Insta video Saeeda Imtiaz, clarified the chaotic turn of events "I don't know why someone would do this", Imtiaz said.  She said she had woken up that day to a long list of calls and text messages from people asking about her well-being, and the situation had sent her into a state of shock. "I understand teasing or bullying someone", she says, "but I don't understand bullying someone to the extent where it hurts them or their family", she further added while talking about how the rumors had sent her siblings and mother into a state of panic.
View this post on Instagram