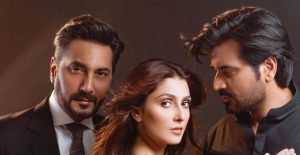 Ayeza Khan and Humayun Saeed starrer 'Meray Paas Tum Ho' aired its 12th episode which brought the audience the ultimate shocker! Danish (Humayun Saeed) is a sunk-in-love husband whose gold-digging wife Mahwish (Ayeza Khan) is leaving him for a wealthier man Shehwar (Adnan Siddiqui). The audience was naturally heartbroken for Danish,  feeling sorry for him until Danish dropped a game-changing shocker dialogue towards the end of the latest episode, "Es Do Takkay Ki Larki Ke Leye Aap Mujhe 50 Million De Rahay Thay?" to Shehwar when he comes to pick his wife from their home as she is moving in with her new-love causing MAJOR jawdrops!
Here's how the Twitterati are reacting and honestly, we don't blame them:
WHOLE PAKISTAN RN
After Watching MerePasTumHo 😭❤
Hatssss offfffff sirrrr 💯 #danish #MerePaasTumHo pic.twitter.com/yYhg9LqG9V

— HareemTheShah (@HareemThe) November 2, 2019
Best Scene Ever! 💔#MerePaasTumHo pic.twitter.com/cuiBGqiDd3

— Abdullah Hassan (@AH_Tweets01) November 2, 2019
Har Sakhat Londay Ka
Har Ashiq Ka
Har BreakUp walay Ka
Whatsapp STATUS

This Scene ❤#MerePaasTumHo pic.twitter.com/wti3x5WkFZ

— TalHA HAfeez (@TALHAFEEZ) November 2, 2019
That face of Mehwish
When danish said is 2 tikky ki aurat k liye 50 million de rhe thy !
This dialouge is actually equal to a thousand slap to mehwish 👋@iamhumayunsaeed words short away to describe your mindblowing performance 👏 #MerePaasTumHo pic.twitter.com/ox1r8HCPnD

— Neha ☆ (@naina_khn) November 2, 2019
The insult was fantastic👏😂#MerePaasTumHo pic.twitter.com/CDFLukxefc

— Mehwish Qureshi (@MehwishSayys) November 2, 2019
These Lines a Slap for all Gold Digger Girls
Khalil Shab Kamal Kar Diya What lines Amazing No Words for your writing
What amazing acting by @iamhumayunsaeed #MerePaasTumHo pic.twitter.com/qZwiCA8Vd3

— (UJ) چوہدری صاحب ( Huriam Ka Birth Day 🎂) (@ChaudhryUmairUJ) November 2, 2019
However, some were are also of other views and did not approve the content of the drama serial altogether! A few were concerned about the double standards being promoted, while a few others showed their disinterest in watching the title!
If the nation is not ashamed of watching this drama, I am not ashamed to say that the media is cleverly ptomote coupple swapping.Come back to our civilization The Jews are plotting to destroy Muslims by any means possible and we can't even afford to speak out 1/2#MerePaasTumHo pic.twitter.com/b4oMvUZRcp

— Anas Abid (@AnasAbi76575363) November 2, 2019
Everyone talking about #MerePaasTumHo
Me: pic.twitter.com/krAvNmhJBs

— H A 〽️ Z A 🔱 (@V3R1FIED) November 2, 2019
Danish said "Dou takkay ki aurat k liye aap 50 million dey rahay thay" & everyone is so happy. However, I am yet to witness ONE drama where the man gets a similar humiliation on cheating. Is it because, as Khalil ur Rehman says himself: Mard to cheating krta he hai#MerePaasTumHo

— Khadija Abbas (@TheKhadijaAbbas) November 2, 2019
Humayun Saeed is never gonna stop trying being Sharukh Khan, & in his quest he even agrees to play a dumb n useless hubby too.

Also huge applaud for Writer n Director for introducing us new bitchy category of Love & Relationship#MerePaasTumHo pic.twitter.com/sIec8nCjA0

— Razi (@murtazaarbabraz) November 2, 2019
Despite all the speculations, we would like to congratulate and laud Humayun Saeed for a performance worthy of a lifetime! The way the Jawani Phir Nahi Ani actor delivered the powerful dialogue, indeed won everyone's heart! What did you think of the latest episode of Mere Paas Tum Ho?
Let us know by dropping a comment on our Instagram page!