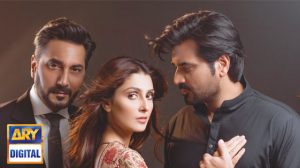 Directed by Nadeem Baig and written by Khalil-ur-Rehman Mere Paas Tum Ho is a romantic drama serial which focuses on the lives of the middle-class. But wait, this drama serial is not just another title based on the middle class and their daily struggles!
The serial is based on a husband and wife, Danish (Humayun Saeed) and Mehwish (Ayeza Khan) and the unfortunate circumstances that leave them strayed.
https://www.instagram.com/p/BtsspvvFNuV/?utm_source=ig_embed&utm_campaign=dlfix
Danish is a government employee who is earning an average of Rs 48,000 in salary and his life's entire meaning is based on doing everything within his reach to keep his beloved wife content and happy. Mehwish is a beautiful girl who is the perfect example of a 'perfect wife' – she supports and cares for her husband and their child Roomi wholeheartedly however, she is very demanding!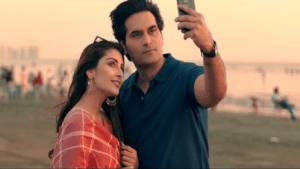 Besides the daily monetary struggles, all is going well for this family until Mehwish comes under the influence of a friend 'Anooshay' who frequently corrupts Mehwish's mind into thinking she can do much better than Danish and that she is missing out on the simple joys of life for no reason.
Anooshay introduces Mehwish to a wealthy and successful businessman Shehwar (Adnan Siddiqui) and the story starts to develop into Mehwish becoming attracted to Shehwar's luxurious lifestyle and even more towards him through expensive gifts and life-time opportunities presented to her by him, successfully planting the first seed of infidelity in Danish and Mehwish's relationship.
The audience has been glued to their screens as the drama title has started to take shape and we don't blame them!
Funny that she takes a night suit on a trip which was supposed to be a day affair. & she has the audacity to find the time to wear it..Conveniently while sharing a room with boss. Not to mention her complete normalcy when he pats her back.
Simply suggesting that she's done IT.

— Junior (@pak_patriot_) October 12, 2019
But wait, did Mehwish just sleep with Shehwar ? 👀 I'm so confused cos it's a Pakistani drama and they won't show more than this even if she did #MerayPassTumHo

— 🌌 (@aestheticallyFM) October 12, 2019
Here's a teaser of the drama serial: