The Hum Style Awards took place this weekend and guaged alot of attention. Some serious experimentation was at play, which is always something we love but some risks couldn't take the leap of faith while others did create an impact.
Scroll down for our review!

Ayesha Omar
Our favorite style icon in an Elan gown. A little confusing structure but undoubtedly impactful. Love how she amps up her look with black gloves and smokey makeup!


Kiran Malik
Making polka dots red carpet appropriate and how! Wearing an Ali Xeeshan number with slick back hair and glossy makeup, she is serving us some 'lewks.'
Momina Mustehsan
Momina in an Aavva Fashion scarlet dress with an unusual silhoutte that actually dosen't look bad. However, would have liked it better without all the drama happening on the shoulders.
Shehla Chatoor
Shehla opts for white seperates with chunky bedazzled details which seems to be making a striking comeback-and who would do it better than the winner of the Best Designer-Bridal!
Mira Sethi
Another refreshing look at the red carpet! Cobalt blue separates by Hussain Rehar, plus Mira's killer abs!!!
Mushk Kaleem
Mushk in a crisp Shehla Chatoor ensemble with an asymmetrical floor sweeping top paired with bedazzled cigarette pants.
Sonya Hussyn
Sonya has astounded us with her great sartorial choices this past year but we feel she misses the mark this time. It's almost like the ruffles are wearing her instead of the other way round.
Mahnoor Baloch
Mahnoor looking radiant as ever in this Menahel and Mehreen double shaded saree. Unlike all the bollywood divas who really kill it with sarees on the red carpet, it's not usually the case in Pakistan but Mahnoor proves us wrong.
Zara Noor Abbas
It's a cute look definitely, but nothing that we haven't seen before! A little boring for an event that's based around style.
Fouzia Aman
Ravishing or whaaat? She could wear this to Cannes, it's that good! Fouzia in a Zaheer Abbas ensemble paired with dainty blings by Neemar.
Mansha Pasha
Appreciate the choice of color but there's too much happening in one dress. Agree?
Sara Shahid
Sara looking like a true winner in this bright yellow ensemble by her own brand Sublime.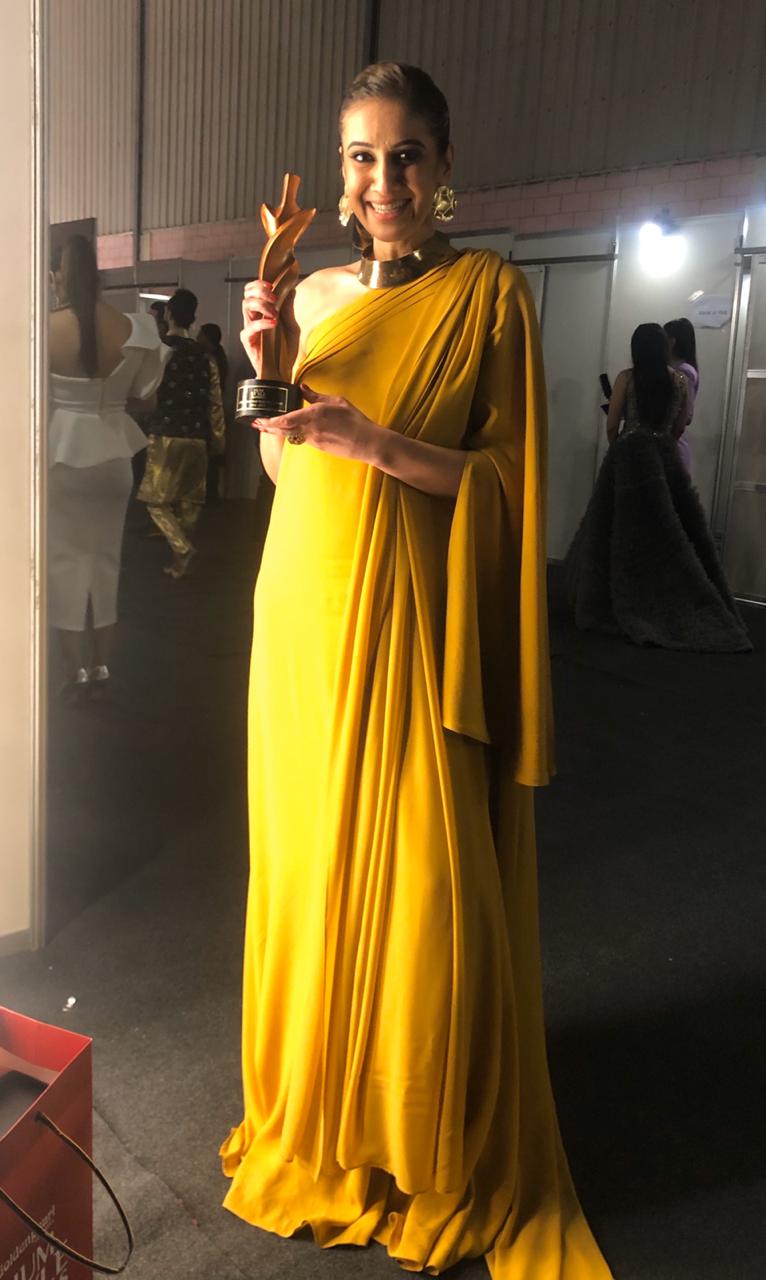 Fahmeen Ansari
Fahmeen ruling the red carpet in a stunning Shehla Chatoor gown with exquisite bow details at the back!

Couples!
We think most of the couples really missed the mark this time, we really scrolled hard to find a complimenting looks but failed.
Hania and Asim
We feel their looks are meh but their vivacious personalities honestly make up for it!
Sajal and Ahad
They looked stunning without doubt, but we think they played too safe!
Urwa and Farhan
Complimenting looks for sure but their sartorial choices are a little dated. However, they looked super stunning, fun and peppy while performing for the audience, Cuties!
Shamoon and Saira
The powerhouses behind Khaadi not only complimenting each other but also looking sharp as ever.
Ali Xeeshan and Myrah
This power couple in contrasting colors steal the game of the best styled couples.
The Dudes!
Some played safe while some really rocked the red carpet.
Adnan Siddiqui
Looking dapper as ever in a classic double breasted coat and a black turtleneck.
Imran Ashraf
Imran standing tall in a checkered black and white coat with crisp black pants by Emraan Rajput.
Aimal Khan
Aimal rightfully wins the award for the best male model in a double breated jet black suit by Emraan Rajput.
Ali Rehman Khan
Ali in a meticulously crafted Nomi Ansari ensemble which is definitely a head turner.
Do you agree with our roundup of the Hum Style Awards? Let us know!
Click here for our last awards roundup.