Geo Entertainment brings forth educational and entertaining programs on display with their thoughtful Ramzan transmission 'Ehsaas Ramzan'.
The lineup of the shows boasts a great ensemble cast coupled with remarkable teams that have time and again given us the best Ramzan plays we have ever watched. All the programs have been produced under the banner of 7th Sky Entertainment, a proud presentation by Abdullah Kadwani and Asad Qureshi.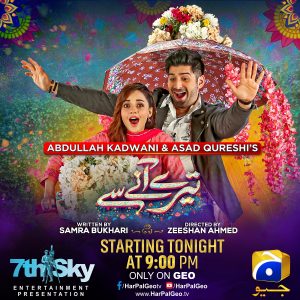 'Tere Aany Se' emphasizes on the essence of family bonding and reunions which is always a treat to watch. Written by Samra Bukhari and directed by Zeeshan Ahmed, the cast features Komal Meer, Muneeb Butt, Salman Shahid and many other prominent actors. 'Teray Aanay Se' airs everyday at 9 PM only on Geo Entertainment.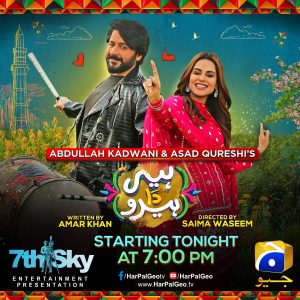 The audience has been eagerly waiting to see the electric pair of Amar Khan and Imran Ashraf again and finally the wait is over as the celebrated pair is back to woo us again with their epic comic timing, convincing acting and Punjabi flamboyance in 'Heer Da Hero'. The show puts a twist to the desi family animosity trope and we're loving the banter. The ensemble cast for the play includes Usman Peerzada, Kashif Mehmood, Afzal Khan Rambo, Waseem Abbas and others. The play airs everyday at 7pm.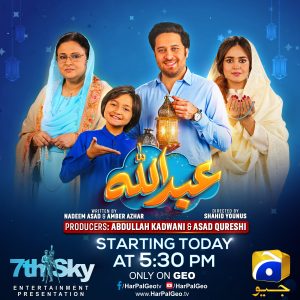 We are also geared up to watch 'Abdullah' with our families and children as the show highlights how social issues can be tackled when seen through the lens of Islam helping Abdullah navigate through everyday life. The educational aspect of the show makes it ideal for highlighting the spirit of Ramzan. The show airs at 5.30pm everyday in Ramzan.
After last year's amazing response, Geo is back with their episodic series 'Dikhawa' and 'Makafat' which delve deep into the issues that are embedded in the society owing to showing off and lack of repentence, the latter as the name implies focuses on makafat-e-amal.
Continuing with the unique addition of Turkish plays, this year we get to watch new episodes of 'Kurulus Usman' narrating the impactful life of Osman Ghazi and his struggles toward establishing the Ottoman Empire. The show will air daily at 4:45 PM. Furthermore, globally acclaimed Turkish TV series 'Mehmed: The Conqueror' displays the life of Sultan Mehmed II and his struggle for power which provides a great account of the historic era. The show will air daily at 3:00 PM .
We're ecstatic that we have a variety of options at our aid, courtesy Geo Entertainment, to not only have an entertaining but also an educational experience with the plays reiterating the values of empathy, kindness and forgiveness.