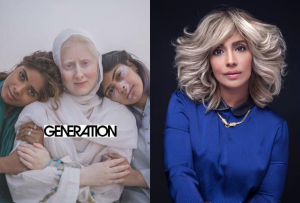 Fashion label Generation and celebrity make up artist Saima Bargfrede have announced their dissociation from the Lux Style Awards in solidarity with harassment victims. Reportedly the two entities refuse to share a nomination with "an individual who has faced serious and credible accusations of sexual harassment".
GENERATION will not attend this year's Lux Style Awards where the brand has been nominated for Achievement in Fashion Design (pret), due to the inclusion of a nominee that has been repeatedly accused of sexual misconduct by multiple women.https://t.co/kPsYBzcbpl…

— GENERATION (@GENERATION_PK) April 22, 2019
The duo released a joint press release shared on Generation's social media accounts to inform the public of their decision.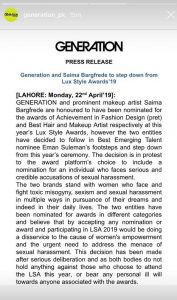 Earlier this month model Eman Suleman also posted a video on her Instagram account on April 1st to announce her choice to not attend the LSAs. She stated in the video, "What I'm going to say next is probably going to result in a lot of eye rolls and vitriol. I am tired of talking about it to be honest but I do not wish to be part of an accolade that is shared with an alleged harasser."