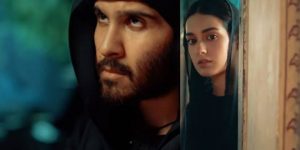 Khuda and Mohabbat 3 just aired its third episode and Twitter is already in love with Feroze Khan and Iqra Aziz's on-screen chemistry in the drama serial. Here's what people are saying:
Iqra Aziz 😳🔥
Feroze Khan 🖤

— 𝗦𝗵𝗮𝗿𝗸𝘂 | Welcome Back Zoe ✨ (@ThatBrowwnBoi) February 13, 2021
These two are so cute! Feroze Khan & Iqra Aziz 🤩😍♥️#KhudaAurMohabbat3#KhudaAurMohabbat #FerozeKhan #FK #IqraAziz #Drama #PhupoBuzz #PhupoTheGossipQueen pic.twitter.com/1BMf5FQX0C

— Phupo.com (@ComPhupo) February 19, 2021
https://twitter.com/_habibtea/status/1362907777174282256?s=20
ok but feroze khan and iqra aziz in khuda aur mohabbat tho 🥵🥵🥵🥵❤️

— RJ 🥑 (@heyitsreh) February 20, 2021
The drama serial, Khuda Aur Mohabbat 3 is directed by Wajahat Hussain and written by Hashim Nadeem under the production of Abdullah Kadwani and Asad Qureshi's 7th Sky Entertainment.
In the serial Feroze Khan is playing a confident young boy from a lower middle class background named Farhad while Iqra Aziz is playing the role of 'Mahi', a girl who belongs to an affluent family from Bahawalpur. 
The plot and storyline of the serial is known to revolve around love and spirituality.
Other than Feroze Khan and Iqra Aziz, the cast of the drama serial includes Junaid Khan, Javed Sheikh, Tooba Siddiqui, Sunita Marshall, Rubina Ashraf, Asma Abbass, Usman Peerzada, Seemi Pasha, Zain Baig and Sohail Sameer.
By the looks of it so far, considering the three aired episodes, the stellar cast and a solid storyline, Khuda Aur Mohabbat sure looks very promising.
Are you also following Khuda Aur Mohabbat 3? If yes, then let us know what your take is on Iqra Aziz and Feroze Khan's on-screen chemistry by dropping a comment on our Instagram page.
Until next time!