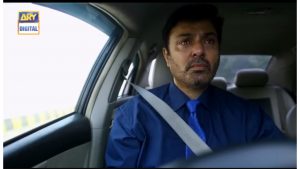 Dunk is being currently airing on Ary Digital with Sana Javed, Bilal Abbas and Nauman Ejaz in lead roles. The drama is produced by Fahad Mustafa and Dr. Ali Kazmi and is directed by Badar Mehmood who is known for his super hit dramas, Cheekh and Balaa.
The drama revolves around sexual harassment. Sana Javed who is playing the character of Amal has accused Professor Humayun of harassing her. Professor Humayun (Nauman Ejaz) teaches at the university for a long time and this case shocked all of faculty members  along with the management of the university.
Bilal Abbas (Hamza) is playing the character of Amal's fiance who also studies in the same university and is supporting Amal to raise her voice and leaving no stones unturned to find justice.
The drama further showed that both Professor Humayun (who has been suspended without being proven guilty) and Amal tell the board members their part of the story. Professor Humayun tells the board that he is being dragged by Amal and Hamza in this case because Hamza has sent some inappropriate pictures and videos to a female teacher of the university while Amal stands strong on her accusation.
In last night's episode, Professor Humayun was found dead in his home by his wife which left fans in a mystery. His daughter was very disturbed as her friends started bullying her in school and with all the negative things being said about her father she starts feeling unsafe with him. This feeling was so heart-wrenching for Professor Humayun that he starts feeling very depressed and we are not sure if this led him to commit suicide or this will unfold another twist.
This episode left fans in a mystery yet many were heart-broken seeing him dead leaving behind a beautiful little daughter and a very loving, supportive wife.
Link to Dunk's recent episode: