Trolling and cyber bullying is the bitter reality that our entertainment industry has to face every other day. However, while some try to stay mellow some fight back and don't shy away from clapping back at the trolls. We've compiled a few celebrities who know how to handle the hate and how!
Yassir Hussain
Yassir Hussain doesn't like to mince his words and he is THE Yasir Hussain because of that. Recently, again he was seen getting back to a troll like a boss.
https://www.instagram.com/p/CC27z1lDnw6/
Hania Aamir
Recently, in an Instagram live when Hania announced that she is not in a relationship with Asim Azhar the memes started flowing to which Hania responded with an apt response. Loud and clear!
https://www.instagram.com/p/CCl7wb0MBkR/
Nadia Hussain
Nadia Hussain has been very clear when it comes to cyber bullying and doesn't let the trolls get by without some clear cut words from her.
https://www.instagram.com/p/CBk0aw2hbOk/?utm_source=ig_embed
Ushna Shah
Ushna makes it clear with a quote by Mike Tyson saying "Social media made y'all way too comfortable with disrespecting people and not getting punched in the face for it." TBH we agree.
https://www.instagram.com/p/CCvEFpkBNnT/
Mehwish Hayat
Teaching 'em with facts in hand!
Joan of Arc , Cleopatra , Margaret Thatcher, Benazir Bhutto to name a few ! It's about time you come out of that little hole you're living in and smell the coffee

— Mehwish Hayat TI (@MehwishHayat) January 3, 2020
Rabia Butt
Rabia Butt has always been someone who doesn't let the trolls harm her but  claps right back at them.
https://www.instagram.com/p/CAF2iDhn5hS/
Partay Bhi kafi mardana hein. https://t.co/YpYepaln7P

— Rabia Butt (@Iamrabiabutt) December 7, 2018

Mahira Khan
This was the funniest, recently Mahira uploaded a picture of chai which also received backlash-to which she responded appropriately.
https://www.instagram.com/p/CBI6IUQBqbz/?utm_source=ig_embed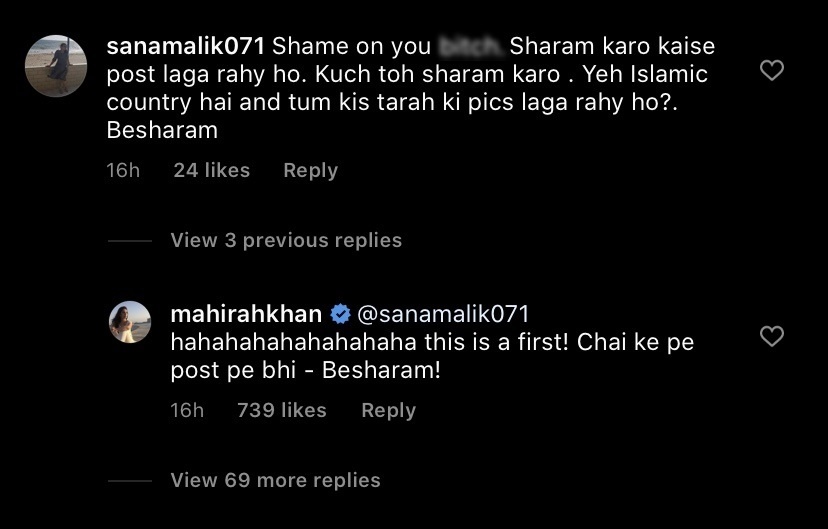 For our last feature on how to get back to trolls, click here!