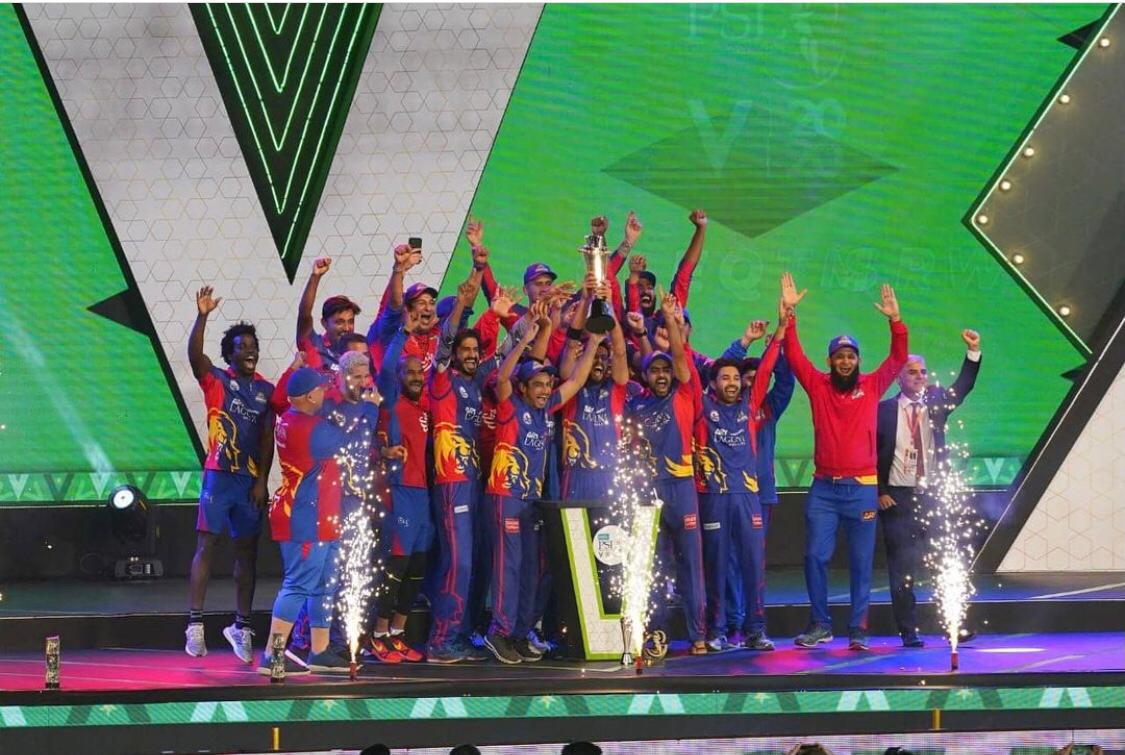 Karachi Kings won the PSL5 yesterday night after a thrilling match against Lahore Qalandars. Given the rivalry between the two cities the final was highly anticipated and twitter was abuzz tweeting about the final game. People were especially interested seeing Babar Azam go against Shaheen Afridi. Celebrities have congratulated the team since it won the game. Scroll down to see them.
Mubarak ho Karachi walo! Congratulations @Salman_ARY and the entire team of @KarachiKingsARY. It has indeed been a long wait but totally worth it, Alhamdulillah! Wish @ProfDeano was also with us tonight pic.twitter.com/hhna8kpC4L

— Humayun Saeed (@iamhumayunsaeed) November 17, 2020
A thrilling finale to the #HBLPSLV . A well deserved win for the Karachi Kings and a fitting tribute to their late coach, Dean Jones. He would really have been proud today! 🏏🏆💙#KarachiKings #KKvLQ #PSL2020Final

— Mehwish Hayat TI (@MehwishHayat) November 17, 2020
What a thriller!

Many congratulations, #KarachiKings – mubarak.

Great effort, #LahoreQalandars – well played. #KKvsLQ#PSLFinal#PSL2020

— Maya Ali (@mayaali07) November 17, 2020
All hail the lions of @KarachiKingsARY! Congratulations, champions of #PSL5. Well-deserved win! What a photo finish match! Kept us on the edge throughout. @babarazam258–man on fire! Incredible performance. Your genius has set the bar high for future players. Atta boy!

— Adnan Siddiqui (@adnanactor) November 17, 2020
Congrats maza agaya @Salman_ARY bhai ♥️ https://t.co/vy5hbscuPt

— Fahad Mustafa (@fahadmustafa26) November 17, 2020
Congratulations @KarachiKingsARY @Salman_ARY maza aagaya pic.twitter.com/vFmDizsWzy

— Faysal Quraishi (@faysalquraishi) November 17, 2020
YE HAI KARACHI 💙💚💙💚💙 KARACHI IS THE CHAMPION!!!!! pic.twitter.com/dnvVLOof7d

— Asim Azhar (@AsimAzharr) November 17, 2020
Congratulations @KarachiKingsARY and let's smile Lahore,after all they needed a Lahoria to get them through 🤪🤪.

— vasay chaudhry (@vasaych) November 17, 2020

Many also remembered Karachi King's late coach Dean Jones who passed away earlier this year.
All our love @Janey_Jones_ This one is for him. May his spirit live on forever in our hearts 🏆🏆🏆🏆 https://t.co/7zMIpA6UC5

— Shaniera Akram (@iamShaniera) November 17, 2020